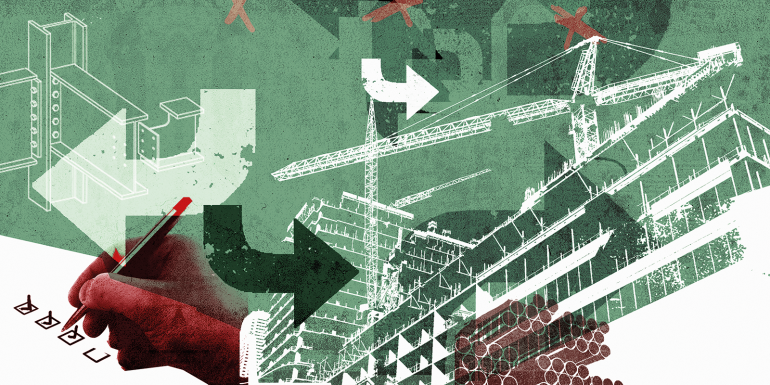 Culture and attention to whole lifecycle building costs underpin the South East Consortium's new Procuring For Building Safety guidance
Following extensive work with its membership in 2020/21, the South East Consortium (SEC) published its Procuring For Building Safety guidance in February 2022, the fruit of combined efforts between stakeholders from across the SEC's network. It has involved contributions from industry leaders, academics, contractors and colleagues from registered providers dedicated to better building safety.
Paul Nash is Chair of the SEC Building Safety Working Group and was integral in developing the guidance. He has sat on several influential building safety groups and chaired the Working Group on Procurement as part of the independent review led by Dame Judith Hackitt in 2018. Paul also sits on the Industry Safety Steering group, providing strategic oversight of the government's building safety programme.
"We wanted to provide a clear and concise guide with practical advice that people could digest quickly," he says. "We're very pleased with the response so far. We hope to get further feedback and plan to update it once the Building Safety Bill becomes law."
Who is this guidance for?
Paul says the guidance goes well beyond building safety. "Procurement has a key role to play in driving the right building safety outcomes, but ultimately building safety is everyone's responsibility," he says.
"While we're aiming the guidance at procurement professionals, we want to give them the tools to communicate upwards to their boards about what their organisations need to do differently and therefore identify the support they need and the processes that need to be in place to reinforce that."
In turn, that enables better communication downwards to the supply chain and to the organisations it engages with on a day-to-day basis. "In a way, anybody within an organisation should be able to pick this up, whether they're doing procurement or working as an asset manager or building engineer," Paul adds.
People can review the guidance, recognise their own or their department's responsibilities, and ask: "Do we have the right processes in place? Do I have the right competence to perform this, and are there areas I don't know that I need to know to fulfil my role?"
The guidance covers five core areas: legislation, competence, products, the golden thread and contracts. However, the first part enshrines the core principles underpinning everything else.
These fundamental principles apply to all procurement activities and are known as the Four Cs: culture, covering acceptable behaviour, how things are done, and balancing financial incentives with broader responsibilities; compliance ensures procurement achieves appropriate and safe building outcomes while delivering value for money to stakeholders, not just meeting the minimum legal requirements; competence ensures organisations and individuals have the skills, knowledge, experience and behaviours to fulfil specified tasks and functions successfully; and control ensures an organisation remains engaged in managing quality, risk, time and cost throughout the life of a project.
Paul says: "This goes back to the Building a Safer Future report, where it was recognised that a fundamental change of culture and behaviours was needed across the industry. There needed to be more responsibility and more accountability. And to some extent, that is what has helped shape the Building Safety Bill."
There are also eight pillars, which expand on the Four Cs and help explain the essential elements needed to change procurement practice. They are: taking responsibility, understanding risk, strong leadership, unique approach (ie., there is no one size fits all), competence, exceeding standards, detailed information and early engagement.
Leadership and understanding
Paul says: "The regulatory regime is clear that certain people within this process – the duty-holders – have responsibilities. But more widely, there needs to be more accountability. That's about leadership, and we have to start from a position where senior managers in these organisations understand what they need to do differently."
This goes back to a recommendation of the procurement working group Paul chaired in 2018. Paul says: "One thing we picked up on is, when you're going out to tender, have you got sufficient information to procure a comprehensive bid? Because if not, there will be gaps, and the supplier or subcontractor will have to make assumptions. When a subcontractor says they can save you money if you adopt an alternative material specification, you need to understand what that means."
Understanding the implications of that decision touches on competence and process, and supply chains need to be engaged earlier in the process. When it becomes law, the new Building Safety Act will promote this through gateways – with more information to satisfy the regulator that compliance with Building Regulations has been achieved.
"There are real benefits in moving towards earlier engagement. Bringing a supply chain on board earlier and getting them involved in the process drives much better outcomes over time."
Beyond compliance
Another element picked up in the Hackitt report was that the construction industry seemed to be working to the minimum standards, not necessarily the right standards, to ensure those who use buildings were safe.
"That is an important concept that we seem to have lost. And again, it comes back to cost being prioritised over quality or performance. It shouldn't be about just compliance and ticking boxes. You've got to ask yourself, 'are we doing the right thing in the long term?'" Paul says.
Going beyond compliance by improving quality within client organisations and throughout the supply chain, improving resident safety, reducing building defects, lowering long-term maintenance costs, and creating high occupant satisfaction should be perceived as beneficial.
Money spent on this is not lost. Paul says: "They're an investment in better building performance and safety over time. It's about the whole lifecycle cost and not just about capital cost. You could be spending a certain figure now, but costs over the life of the building could be many multiples of that if you get it wrong."
Paul hopes the guidance will prompt debate and encourage people in their organisations to ask questions individually and organisationally. While some organisations fully understand these issues and have started to adopt the principles in practice, there are still too many waiting for the legislation, who may find themselves unprepared when it arrives. Paul's message is simple: "Don't wait – get on with this now." 
Download the SEC guidance at bit.ly/ProcurementGuidance
Image credit | IKON