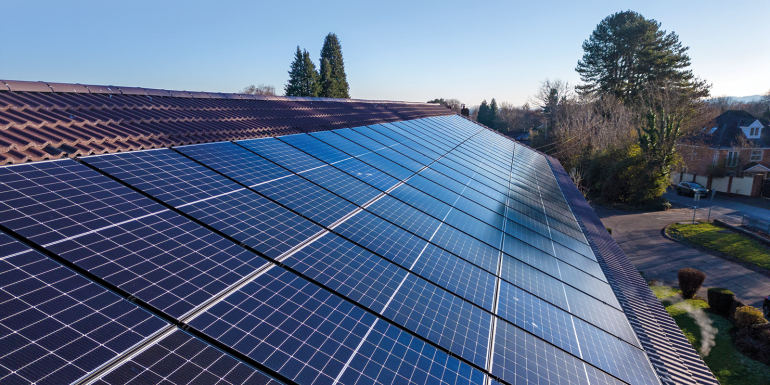 The Welsh government's Optimised RetroFit Programme sees Wales as the first nation in Europe to implement new solar technology for housing blocks
In February, Allume Energy, Wales & West Housing (WWH) and the Welsh government announced the first installation of Allume's SolShare technology for the UK's housing sector to provide clean, affordable electricity to residential flats in Cardiff.
The project has connected 24 flats to lower-cost solar energy at Odet Court, potentially meeting 55-75% of each flat's electricity demand. Based on the average usage of 1,800-2,400kWh for a one-bed flat, this could equate to an electricity bill saving of around 50% (£390-530) a year, given current average electricity costs in the UK of 34p/kWh. The project has been funded by the Welsh government in association with Wales & West Housing as part of the Optimised RetroFit Programme.
SolShare is the world's only technology for connecting multiple residential units within a single building to a single rooftop solar PV system. Until now, previous options involved installing individual solar systems into each unit – a largely unworkable solution for developers due to cost, footprint and inefficient energy utilisation. In the case of Odet Court, this would have meant installing 24 sets of panels, 24 inverters and 24 batteries. SolShare has significantly reduced the amount of hardware and footprint required and has also reduced installation costs compared to a typical solar system. Its dynamic sharing capacity also delivers an improved solar utilisation of more than 25%. The innovative battery system will annually produce and store 50,248kWh of green solar energy for the direct benefit of residents. Each flat will equally share the energy produced, resulting in 2,094kWh per unit.
The generative capacity translates into savings in the following way. For any type of solar PV system, when the solar energy is delivered to the home, it is either consumed on-site (by being used, for example, by appliances drawing power) or exported back to the grid if more solar PV is delivered to the home than can be used by it.
A typical solar PV system in the UK will consume on average 40% of the solar energy that has been produced and export 60% back to the grid. For example, if a home consumes 2,000kWh per year and has 2,000kWh of solar delivered to it, it will consume 800kWh and export 1,200kWh. So, even though over the course of the year the solar generated is the same amount as the home's energy needs, it will only reduce its grid energy usage by 40%.
When multiple flats are connected to solar PV via SolShare, however, the solar PV is directed to the flats when they are using energy. This optimisation increases the average solar consumption from 40% to almost 50%. In the same example, a home that consumes 2,000kWh per year and has 2,000kWh of solar delivered to it will consume 1,000kWh and export 1,000kWh, reducing grid energy usage by 50%.
The site at Odet Court also includes batteries, which increase consumption even further. Allume estimates the consumption to increase to 55-75% depending on each flat's energy usage. If 55-75% of 2,094kWh of solar is consumed, each flat will consume 1,152-1,570kWh. If we take the extremes of top-end energy users (2,400kWh) consuming the lower amount of solar (1,152kWh) and lower-end energy users (1,800kWh) consuming the higher amount (1,570kWh), the grid energy reduction will likely range from 50-85% for the flats once the data is reviewed in a few months' time. Importantly, SolShare is suitable for retrofit projects as well as new builds, as it does not require any changes to the existing supply and metering infrastructure.
Wales leading the way
More than two million Australians, 15 million Americans and 300 million Europeans live in low- and medium-rise apartment buildings with roof space for solar but, until recently, no way of accessing energy generated from it. SolShare enables the sharing of solar energy from a single rooftop solar system among multiple dwellings within the same building. This breaks down the technical and ownership barriers that have historically prevented apartment residents from accessing cheaper and cleaner energy. Allume Energy's Jack Taylor says: "We hope it will serve as a template for governments and social housing providers in the UK to provide cost-effective energy efficiency upgrades to multi-unit residences. Simple and affordable solutions are available, which help tackle fuel poverty and climate change."
It's a sentiment echoed by the Welsh Climate Change Minister Julie James, who says: "This is an exciting first-of-its-kind project for Wales and exactly the type of thinking we need to see within the housing sector. The decarbonisation of homes plays a big part in our journey towards a Net Zero Wales by 2050. At a time when costs are rising, improving the energy efficiency of homes will not only help us to deal with the climate emergency, but also help families through the cost-of-living crisis."
---
About Wales & West Housing
Wales & West Housing (WWH) manages more than 12,500 high-quality, affordable homes in 14 local authority areas across north, south and west Wales. These include more than 3,000 dedicated properties for older people, as well as innovative supported housing solutions for people with a range of particular needs. The majority of homes are for rent, allocated by local authority social housing waiting lists.
In recent years WWH has been working with a number of organisations and the Welsh government to trial different methods of retrofitting older homes with energy-saving technologies including increased internal and external insulation, air and ground source heat pumps and solar PV and battery systems.
For more, visit wwha.co.uk
---
Each household could benefit from savings of around 50% on their electricity bills and, in this case, social landlords are leading the way in the transition to cleaner, more affordable electricity. Joanna Davoile, Executive Director (Assets) at WWH, says: "At a time when many people are facing difficult choices of whether to heat their homes or feed themselves and their families, it is only right that we explore ways to make our homes more energy efficient for our residents where possible.
"In recent years we have been trialling different methods of retrofitting older homes with energy-saving technologies, but one of the main challenges has been how to fit PV panels and battery systems to our apartment homes so that everyone living in the schemes could equally benefit. The SolShare system seems to be a much fairer solution as the energy generated by the building can be shared equally to help our residents keep their electricity costs down, rather than going back to the grid." 
For more on Allume Energy's SolShare, visit allumeenergy.com
Watch a video of the installation at bit.ly/vimeo_allume