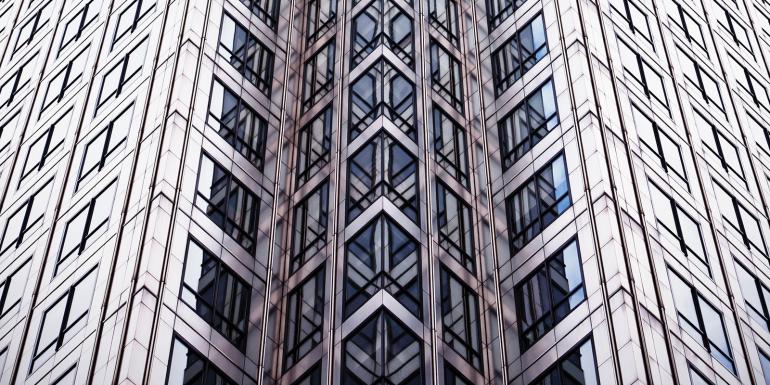 Walls of glass and stainless-steel façades have become a regular fixture in city skylines, but beyond their beauty there is an ecological functionality
Richard Matheson at the Nickel Institute points out that by 2060 the world is projected to add 230bn m² of buildings – an area equivalent to the entire current global building stock. And given that, according to the United Nations Environment Programme, buildings and their construction together generate 36% of global energy use and nearly 40% of global greenhouse gas emissions annually, the construction industry should be seeking out ways to reduce the environmental burden of buildings.
He suggests careful selection of materials and incorporating functional façades such as curtain walls as a smart approach. Curtain walls do have a big impact on energy efficiency, protecting the building and its inhabitants from external conditions such as weather, heat, noise, light and glare. In some ways, insulated glass can be more energy efficient than insulated walls thanks to daylight passive solar gain.
The International Energy Agency believes the energy-savings potential from improved building envelope performance is huge: "Globally, high-performance buildings construction and deep energy renovations of existing building envelopes represent a savings potential more than all the final energy consumed by the G20 countries in 2015, or around 330 EJ in cumulative energy savings to 2060."
Curtain walls have been growing in popularity, favoured by architects for the visual impact they bring to big project buildings in cities around the world – from London's One Canada Square to Kuala Lumpur's Petronas Towers. In terms of the choice of materials for these glinting, jewel-like buildings, Matheson may have a point. Glass – particularly insulated glazing – and metal – particularly stainless steel – have great thermal properties as well as sustainability credentials due to the amount of energy used and emissions produced in the extraction and production of the raw materials as well as their ability to be recycled.
Nickel-containing stainless steel offers low thermal conductivity (unlike aluminium, for example) and is an ideal material for structures in corrosive environments or for architecturally-exposed structural steel applications. The International Molybdenum Association (IMOA) notes that stainless steel is 100% recyclable with no down-cycling, regardless of how many times it is recycled, and for that reason producers use as much recycled content as possible.
"In 2002 the International Stainless Steel Forum (ISSF) estimated typical recycled content of stainless steels at about 60%. The Specialty Steel Industry of North America (SSINA) issued a fact sheet stating that 300 series stainless steels produced in North America, like Type 316, have a post-consumer recycled content of 75 to 85%. Some stainless-steel producers report as much as 90% recycled content for their most common stainless steels."
Life-Cycle Assessment
There are various ways to compare the sustainability of construction materials, but the complete Life-Cycle Assessment (LCA) makes a convincing case. Whole Building Life-Cycle Assessment (WBLCA) looks at all phases of a building, from material extraction through construction to decommissioning and, when possible, recycling into a new useful material. It considers the required project life, expected material service life and the environmental impact of the material – not to mention that premature replacement also affects the building's carbon footprint and has associated costs.
IMOA notes that Life-Cycle Inventory (LCI) databases have been developed in Europe, Australia, the US and in other parts of the world so that decision-makers can assess the environmental impact of each material they are considering. In the absence of such databases, individual company and region-specific industry association Environmental Product Declarations (EPD) also provide LCI information. It notes that: "Building projects can earn additional points in the current version of most widely used green building rating systems (USGBC LEED, BREEAM, Green Star, etc) if a Whole Building LCA is done. USGBC LEED and BREEAM use a minimum design life of 60 years. The International Green Construction Code (IGCC), an optional addition to the International Construction Code, encourages Whole Building LCA and uses a minimum service life of 75 years."
As more and more national and local governments specify minimum project and building service-life requirements, the benefits of stainless-steel façades become clear. It does not require coating to prevent corrosion, eliminating the release of volatile organic compounds (VOCs) and associated toxic run-off, a stainless-steel roof or building exterior can reduce the solar heating effect and hence the demand on the air-conditioning system, it is easy to maintain and loses none of its lustre – New York's Empire State Building only needs cleaning every 30 years – the materials have a good whole life-cycle properties, and when they reach the end of their use they can be easily recycled with no loss of integrity. As one of the most environmentally-friendly metals available for construction, stainless steel is more than just a pretty face.    
---
Further reading nickelinstitute.org 
Molybdenum uses bit.ly/IMOASS
Reducing thermal bridging in curtain wall fixings bit.ly/CurtWallFix
Image credit | iStock