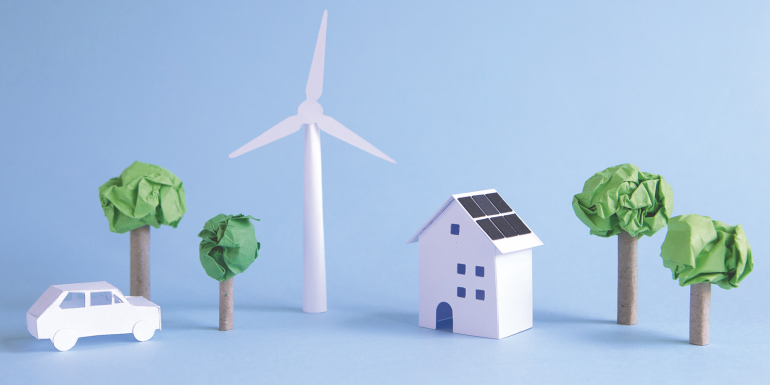 As the climate crisis forces the construction industry to take stock, the responsibility rests with us, says Dr Mike Cook, Chair of IStructE's Climate Emergency Task Group.
In the crowded landscape of environmental activism and debate, multiple campaigns are gaining ground under the umbrella of the Construction Declares initiative. Taking hold in the UK through the Architects Declare group in mid-2019 before expanding both laterally across the industry and internationally across borders, the movement is now building up to the focal point of this November's COP 26 summit in Glasgow.
The initiative is based on a family of online declarations, where signatory firms commit to move on from "business as usual" and replace it with truly sustainable development. The petitions call for buildings to have a positive impact on their environment. As well as cutting embodied carbon and reducing emissions, signatories also commit to address air quality, biodiversity, the creative re-use of buildings and the circular economy. Signatories should also lobby government for more ambitious targets on environmental issues, raise awareness through advocacy and award schemes, and evaluate projects for their "regenerative design" scope or for taking more carbon out of the atmosphere than they consume.
The declarations are tuned for the various disciplines within the industry to reflect their different project and contractual roles – in the UK, as well as Architects Declare, there are also declarations for firms in structural, building services and civil engineering, project management, landscape architecture and contracting. There are no specific decarbonisation targets or tree-planting pledges – the idea is to shift the parameters of the debate rather than requiring firms to set up a cycle-to-work scheme or add more recycling bins.
"There has been a tendency for governments and businesses to focus very much on carbon emissions, but this is a climate and biodiversity declaration," says Dr Mike Cook, a structural engineer who worked to develop the engineering declarations in 2019 and currently chairs the Climate Emergency Task Group at the Institution of Structural Engineers (IStructE). "It goes way past carbon in terms of commitments to support biodiversity and nature and recognising the need for a paradigm shift in the kind of economic model that we work by. It's much more of a broad-based, future-looking declaration."
Cook also sits on the co-ordinating group for Construction Declares, along with others who have established discipline declarations. As he says, the campaign sees itself as a part of a paradigm shift that could reboot the entire economy: one inspiration is Doughnut Economics by the Oxford economist Kate Raworth, which argues that the planet's future depends on finding the "sweet spot" that meets the needs of all within the means of the planet.
COP 26
While the overall Construction Declares movement has now attracted more than 6,000 signatory firms worldwide, including more than 1,000 consultancies in the UK, Cook sees a great deal of room for further growth. "We want to see the Construction Declares voice being used and heard more widely through the individual declarations, bringing with it all the different aspects of construction and helping to ensure there is a united voice for change across businesses operating in the sector. However, growth has been uneven, with Architects Declare having by far the greatest number of signatory firms in the UK and internationally. So far, only eight contractors have become early adopters, possibly because of the declaration's challenging scope. But, as Cook says, "it is early days for Contractors Declare, which is the newest declaration in the family". He also emphasises that new declarations to cover other sectors such as quantity surveyors or clients/developers would be welcome. "It is easy to establish additional declarations, and the Construction Declares website sets out how to do it," he adds.
The movement is independent of the various professional institutions, such as the Royal Institute of British Architects (RIBA), IStructE or the Chartered Institute of Building (CIOB) – as Cook notes, it could be difficult for institutions whose raison d'etre is upholding their members' professional status to call for the levels of change set out in the declarations. However, on a practical level, such as by offering publicity in their magazines, promoting discussion via conferences and social media channels, and establishing climate emergency action groups in-house, the professional bodies are lending their valuable support to ensure that the professions move forward responsibly.
From Business Ambition for 1.5°C to ISO 14001, a common feature of most corporate pledges or certifications is that signatories are subject to ongoing monitoring, perhaps via third-party inspections or submitting a dossier of evidence. At the moment, the only lever of enforcement for the Declares movement is companies' own sense of commitment and moral purpose, plus general awareness of the campaign and website, which act as a self-checking mechanism.
Cook also explains that firms are translating the declaration's high-level and aspirational goals into action plans that are more meaningful for their own business and clients. "The declaration is almost a credo – this is what we believe, now it's up to us to deliver against those beliefs."
With COP 26 on the horizon in late 2021, the movement wants to build awareness of its arguments, and take advantage of environmental issues being in the spotlight. "It feels like such a focal point – we must all take full advantage of the attention of the world on these matters," says Cook.
But that spotlight also extends to individuals, who may be in a position to influence their companies and advocate for a board-level decision to sign the declaration. "As an employee in a construction business, I'd want to know whether my firm has signed up to it – and if not, why not?" Cook suggests.
"Companies need to have a moral compass. Their staff will hold them to account, and staff won't want to work for companies that don't think future generations matter."    
For more, visit constructiondeclares.com
Image credit | Getty