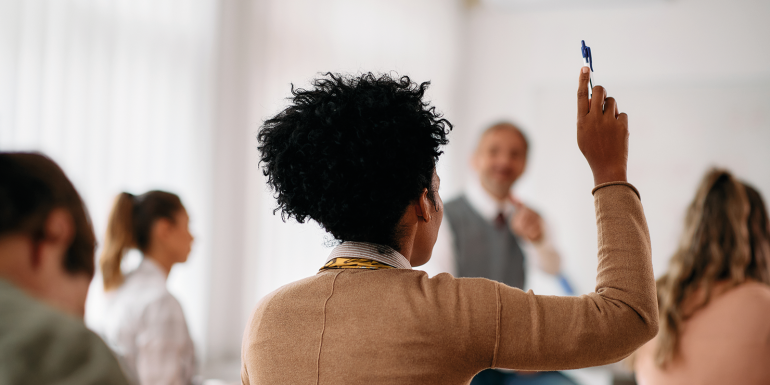 Irene Hayden FCABE, Lecturer for the Department of Building and Civil Engineering at Atlantic Technological University, Galway City, explores authentic learning in CPD
"I chaired a two-part National Forum seminar and Engineers Ireland (EI) Academic Society webinar in 2022. The aim of the seminar was to explore authentic and appropriate teaching, learning and assessment practice in continuing professional development (CPD), through a multidisciplinary and international lens, to identify opportunities for learning enhancement in the built environment. Experts gave their opinions of CPD and represented the professions of engineering, architecture, architectural technology, quantity surveying, construction management from Ireland, Scotland, Wales, England, Malaysia and Canada. I presented the differences between prescriptive competences in the professions, in education and legislation in the built environment, as well as the usefulness of the Professional Development Wallchart (youtu.be/3uB8hXJCpNw)."
John Barfoot FCABE
The former Learning, Education and Academic Director at CABE spoke about the international recognition that, post-Grenfell in the UK, "there can be no doubt of the need for improvement and the professional competence of our colleagues in the built environment" and that "instilling lifelong learning in our students will encourage deep learning and professionalism throughout their careers." To support a cultural change for professional lifelong learning, John noted: "We need an environment of available, easy to find CPDs for professionals, who, after reflecting on their competence, can source CPD which is accessible to all learning styles that will meet their development needs."
With zero-carbon targets and changes in the digital environment, new resources are required by professionals. These are currently being delivered by academic institutions. John proposed that this knowledge needs to be shared by academics with professions as CPDs in ways such as micro credentials, within the context of research-based best practice in teaching and learning. Sharing research and resources that employ "good pedagogy suggests a problem-based approach is preferred by learners" and that "CPD needs to be deep learning, enabling us to test ourselves and apply knowledge and skills in new contexts and being critical of arguments and evidence". John stated that he believed the best form are "micro credentials – qualifications evidencing learning outcomes within short, transparently assessed courses or modules of varying credit, and which can be delivered online, on-site or in a blended format."
Ar Dr Sharifah Fairuz Syed Fadzil FCABE
The Associate Professor at Universiti Sains Malaysia, who lectures on the architecture programme, stated that CPDs are "an investment in ourselves, boost confidence and strengthen our credibility". She noted that the leaders who make policies and enforce policies on the built environment should be just as concerned with CPD as the built environment professionals. She said that CPDs are also required because technology is moving fast, in architecture for example, virtual reality, artificial intelligence, Hologram and Roto and so on. "Continuous effort… is key to unlocking our potential" and that "Formal education will make you a living; self-education will make you a fortune."
Dr Suha Jaradat FCABE
Head of Construction and Surveying at the School of Engineering and the Built Environment at Edinburgh Napier University, Scotland, Dr Suha's research speciality areas include digitisation of the built environment, architectural practice and construction management, and the interactions between buildings and people. "CPD does not need to be a formal, structured, boring course, or a tick-box exercise. I arrange local site visits for my students, but I also find it valuable for me to learn from, and to keep in touch with, recent developments in the field. Graduates from our courses facilitate office and site visits; we also visit local iconic buildings. Sometimes these visits provide experiential learning while also sparking an interest in doing CPD relevant to the visit, such as reading an article and researching to find out more, thus developing a deeper learning experience." She believes that academic research papers can form the basis of a rich CPD experience.
Dr John Littlewood FCABE
Head of the Sustainable and Resilient Built Environment (SuRBE) Research and Innovation Group at Cardiff Metropolitan University – a multidisciplinary group that undertakes applied research and innovation enterprise consultancy with industry – Dr Littlewood outlined the professional doctorate professional development pathways available to practitioners in Wales, who can use further studies to meet their professional development requirements, often supported by industry partners. The pathways available are in Engineering, entitled D.Eng, and in the Sustainable Built Environment, entitled D.SBE.
He presented research conducted by Dr Geraldine Seguela. It investigated water conservation strategy mixed methods for achieving zero use of desalinated water for outdoor landscape hospitals in arid climates. This is as an example of how research can be read for professional development purposes and as a mechanism to disseminate research findings to a broader audience.
---
Active Building further reading
---
Dr Joanna Clarke
Together with Swansea University, she is involved with Active Buildings: "An Active Building supports the energy network by intelligently integrating renewable energy technologies for heat, power and transport." She outlined some examples: an Active Classroom, constructed in 2016, incorporates solar photovoltaic (PV), solar thermal, battery storage, novel resistive heating system and a new form of construction. "It was very experimental, demonstrating low carbon technologies on a real building and it has proved to be a useful engagement tool."
Active Building Demonstrators can be used for CPD purposes in several different ways. Dr Clarke outlined options for flexible learning, such as:
data collection for Building Performance Evaluation
support for technology developers:
a platform for testing in real-world conditions (integrated into building fabric and connected to whole building energy system)
promotion of technology; and
enhanced connection between research/academia and construction industry in the form of CPD seminars, conference talks and guest lectures.
Uthayan Thurairajah
The Associate Professor at OU-Elite Research Institute, Toronto, Canada, reviewed requirements for CPD in the built environment and outlined what he considered a good built environment design. He stated that the "built environment is a multidisciplinary setting. It requires teamwork. Therefore, CPD should include group work."
He considered that holistic built environment design should meet biodiversity needs while balancing the architecture, environmental standards, economic and regulatory context. It encompasses energy and water-saving measures while reducing carbon emissions and global warming.
Lindsay Richards FCABE
As an academic at University of Wales Trinity Saint David, she explored the concept of reflective practice as an important part of CPD. She said: "Reflective practice is a crucial part of developing new skills within our industry. It develops the capacity of the individual to respond to change and challenges, the ability to make timely decisions and the ability to manage emotions and cope with stress. These are all part of a more holistic professional development."
Summary
The professional development landscape, while complex and challenging, was rich with opportunity and diversity. The sessions suggested that the onus was on practitioners to make professional, strategic, careful and ethical choices when planning annual personal professional development, with a call for greater support from academia and professional bodies working together. I suggested professionals write a plan of action for development each year, perhaps even a bucket list to discover new skills, and to refresh it annually. "If a learning activity contributes to your professional development, then it counts as CPD."
See page 48 for more on CPD as a Chartered Building Engineer
Image credit | iStock