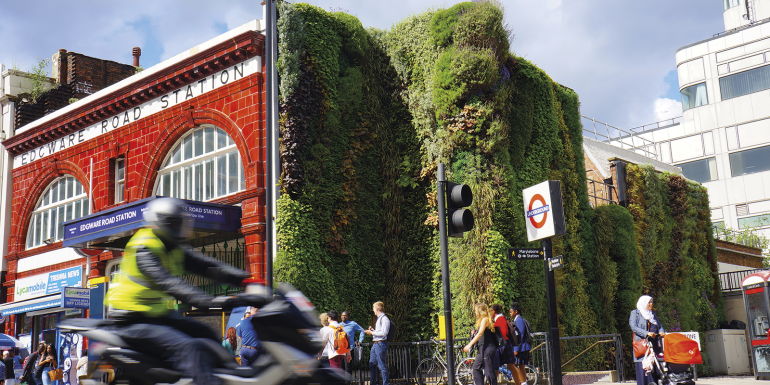 Richard Sabin, Managing Director of Biotecture, discusses the benefits and considerations of living walls
Building designers and engineers are increasingly looking to green infrastructure to help mitigate the effects of climate change and reconnect urbanised populations with nature. Alongside green roofs and sustainable drainage systems, living walls are an increasingly popular option. But how do they work, what are their benefits, and can they help create better cities?
The current focus on designing zero-carbon buildings means our connection with nature is often overlooked in this increasingly urbanised world. However, if we are to move towards a truly sustainable future, a holistic approach that considers biodiversity and our connection with nature is the only way forward.
This includes bringing nature back into our cities. Green infrastructure such as green walls, green roofs and pocket parks can be targeted to bring plants to the very places where we need them most and where they can add the most value. Space is at a premium in urban areas and living walls are an efficient way to incorporate plants. Green walls have been proven to reduce air pollution and urban temperatures while improving the thermal performance of buildings and attenuating rainwater. They also have a positive effect on humans – being close to nature is good for us and has been shown to reduce heart rate and blood pressure as well as improving mental health, according to the British Heart Foundation.
Biodiversity is also vital to maintaining healthy ecosystems, which in turn are vital to tackling climate change and maintaining our food chain. You would typically find about four species of spider per 100m2 of blank wall, compared with 19 species on 100m2 of living wall. The Environment Act 2021 requires all planning applications to increase biodiversity by 10%. Living walls are a space-efficient way to achieve this. Horticultural experts can select plants to encourage biodiversity or even target individual insect species. They can also incorporate habitat boxes into living walls.
Temperature management
Green infrastructure such as living walls can help mitigate the effects of rising temperatures and reduce our reliance on mechanical heating and cooling. Buildings directly account for 17% of UK greenhouse gas emissions, with space heating accounting for more than 60% of all energy used in buildings. Living walls and green infrastructure provide insulation and solar shading, helping to keep buildings cool in summer and warm in winter, which could play a part in helping the UK to achieve its net-zero commitments.
In fact, a research team at the University of Plymouth recently found that installing a living wall on the outside of an uninsulated 1970s building reduced heat loss through the structure by 31.4%. Researchers in Reading also found a wall covered in vegetation lost 21-37% less heat than bare brick walls, and that energy efficiency was enhanced by 40-50% under extreme weather conditions such as strong wind and rain.
The urban heat island effect is a real concern for policymakers. We've all experienced it when visiting a city on a hot summer's day and can feel the heat emitted from the pavement and building façades. Climate change will exacerbate this problem, with studies by the Swiss Federal Institute of Technology predicting that London will have a climate similar to Barcelona by 2050. Plants in living walls provide natural shade and absorb heat, and so mitigate urban heating.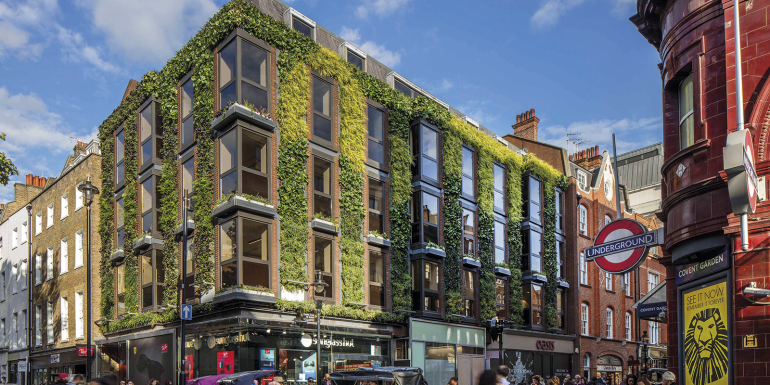 Improved air quality?
Phytoremediation – the use of plants to decontaminate soil and groundwater – is biological filtration. Often, when we think about filtration, we start to think about mechanical solutions, but biological solutions work very well. Plants provide us with the perfect cocktail in which to breathe.
In major cities, the space between buildings is often less than their height, creating 'urban street canyons'. In these spaces air becomes endlessly trapped, circulating contaminants such as sulphur dioxide, nitrogen dioxide and particulate matter until something – hopefully not our lungs – takes it out of circulation. Living walls can help absorb this pollution.
Measurable indoor air quality is a key indicator of the health and wellbeing of our indoor spaces. Plants have been proven to remove significant quantities of volatile organic compounds from the air and reduce carbon dioxide levels by 10-25%.
Living walls can be also used as a rainscreen cladding system. Some systems are designed and validated to work as a building's rainscreen cladding element, whether fitted to a new or existing structure. That makes a living wall system integral to the building design, and in terms of value should be considered against other cladding systems rather than being seen as an additional cost.
Living walls use a supporting framework anchored to the structure, along with a cement particle board, waterproof membrane, ventilated cavity and vegetative panels. The total overall outward projection of a living wall from the structure can be as little as 80mm, which is again comparable with other rainscreen systems.
Weight loadings
As with any rainscreen cladding system used to overclad an existing building, it is necessary to carry out a structural survey to verify the structure can withstand additional loading.
A structural survey will inform you of the most appropriate living wall system to use. Where the survey identifies that a façade is capable of accepting additional weight loading, it is possible to use a living wall product such as Biotecture's BioPanel, which is similar to any rainscreen cladding system. If the existing masonry façade won't accept the additional weight, then the company guides specifiers as to the best way forward, such as that used by ThamesWey.
Working with structural engineers, Biotecture designed a value-engineered solution that enabled a living wall to be retrofitted to existing brick balconies at ThamesWey's urban regeneration project in Woking. The PlantBox system was specified because all loading could be transferred onto the main building structure rather than the existing brickwork. Only restraint fixings at height were needed, and these were fixed into the brickwork following a structural pull test.
The specifiers originally envisaged that the balconies would need demolishing and rebuilding to use a living wall system, so using a freestanding system instead saved significant time and cost. The final effect sees elegant ribbons of living wall stretching across the building, softening the brickwork above Wolsey Place shopping centre.
Practicalities
Living walls can soften the appearance of new buildings and help create pleasant environments for users, which can help contribute to a successful planning application. The new Environment Act, which became law in November 2021, will require new developments to protect and improve the biodiversity of the plot by at least 10%. Living walls are a space-efficient method of creating biodiversity net gain and so can contribute to the planning process.
Although maintaining living walls can be off-putting, they in fact have a service life equivalent to many other cladding systems. That means, with a regular maintenance programme in place, they will flourish indefinitely. The technology used to maintain living walls has improved beyond recognition in recent years. For example, we use remote sensing irrigation systems that deliver water directly to the plant roots. This precision watering uses a quarter of the water required on equivalent horizontal landscapes.
Grodan, a 100% natural material based on spun rock, is the growing medium for our hydroponic living walls and is highly suitable. It acts as a water-retentive sponge and results in healthier and longer-lasting plants that can be grown on relatively thin bases.
Three of Biotecture's living walls have just celebrated their tenth anniversary and are still looking as good as the day they were installed. These are the New Street Square (new build), Edgware Road Tube Station (retrofit) and
King's Cross (new build) living walls. Two projects – St Luke's Hospital in Oxford, and the McArthurGlen Ashford Designer Outlet in Kent – were awarded plants@work Gold
Leaf Awards in October 2021 for the excellent work of the maintenance teams.
Other practical considerations include fire ratings. Like all cladding and façade systems, living walls have to meet minimum fire performance standards. For example, the Reaction to Fire Performance of Biotecture's living wall system is confirmed by a world-renowned independent consultancy to be B-s3 d2. As a matter of right, this classification acknowledges compliance with the simpler BS 476 classification for spread of flame, for which the system is confirmed to achieve Class 0. When choosing a living wall that needs to meet current fire performance requirements, any technical and specification team worth their salt should be able to offer guidance on fire ratings and practicalities. Also, they should be involved from the initial design concept through to completion and handover.
Biotecture has been designing and installing living walls for almost 15 years, and we believe there is no other building material that offers benefits across the whole built environment. With the focus on climate change and net-zero construction, now is the time for green walls to flourish.
For more information visit biotecture.uk.com
Read research on living wall systems at bit.ly/livingwallresearch
Image credit | Alamy