Energy security plan branded 'a supply-side strategy' by BRE, while ECA points out 'dogged' omissions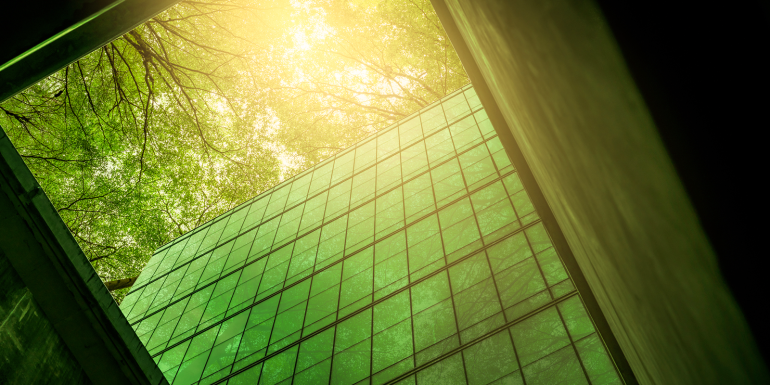 The publication of the British Energy Security Strategy outlined a much-anticipated plan to achieve energy independence and net-zero carbon – but it received mixed reactions from the building sector.
The strategy sets out how Great Britain will accelerate the deployment of wind, new nuclear, solar and hydrogen, whilst supporting the production of domestic oil and gas in the nearer term – "which could see 95% of electricity by 2030 being low carbon," according to the government.
Feedback ranged from praise for its renewed focus on wind power to shock at its proposals to boost oil and gas as an interim measure while renewable and nuclear generation is ramped up.
Speaking to Building Engineer, Paul Reeve, Director of Corporate Social Responsibility at the Electrical Contractors' Association (ECA), first pointed out some of the positives. "ECA greatly welcomes further moves to boost UK offshore wind and solar energy production, along with the stated aim of 'rebalancing' costs in energy bills away from excessive levies on electricity," he said. "The electrification of energy in buildings, infrastructure or transport, utilizing a continually decarbonising grid, is clearly the way forward.
 
"However a very large elephant – in a very small room – for this new strategy is that we still don't have a national energy retrofit strategy. For both domestic and commercial premises this is a major – and unexplainably dogged – omission from government energy thinking. Although the Construction Leadership Council has already formulated how a national retrofit strategy would work, this appears to have been ignored."
 
While reducing energy demand would have rapid and sustainable, environmental, social and economic benefits, said Paul, the new energy strategy remains fixated on the long grass. This is further evidenced by the continued aversion to UK onshore wind energy, which could provide rapid and cost-effective low carbon energy benefits. 
 
"Bearing in mind the huge capital another costs, and current lead times for nuclear, the plan to boost nuclear for baseline supply appears sensible in principle but practical delivery is a very long way off."    
 
The current stage of the UK journey to net zero carbon needs energy flexibility, suggested Paul: a good mix of low-carbon energy sources and reduced energy demand. 
 
"A very specific benefit would be to extend the recent VAT cut on energy saving measures to include energy storage systems (notably batteries). These will be key to giving many households and businesses the ability to use stored renewable energy.
 
"Whatever we do next, we also need a skilled and competent workforce to deliver and maintain the necessary low carbon measures," he says. Yet there is no mention of upskilling or workforce training in the latest strategy. "Describing technologies alone is not a strategy, it must go on to include the route to safe, cost-efficient and high quality delivery.
 
"So for now, we urge the government to re-focus on what can be done right now to help households and businesses reduce energy demand, and to cut both costs and carbon emissions. Energy retrofit should be the first step on our path to national energy security and net zero carbon. We also ask that they take a strategic view of the engineering and other skills needed to deliver positive outcomes across the board, as we look for a secure, low carbon energy future."
Also commenting on the strategy was Gillian Charlesworth, Chief Executive of the Building Research Establishment (BRE). Gillian said: "[The] Energy Security Strategy was a supply-side strategy whereas we are facing an urgent demand-side problem. Whilst [BRE] welcomes measures to bolster the long-term security of the UK's energy supply, the plans outlined do not represent a whole-hearted commitment to transitioning as quickly as possible to renewable energy and will do little to address two of the biggest challenges we currently face: tackling rising energy costs and improving the energy efficiency of our homes and buildings.
 
"The UK has one of the oldest and least energy efficient building stocks in Europe, which unnecessarily inflates demand for natural gas. Accelerating the roll out of retrofit measures like insulation is a short-term solution that could address spiralling bills and significantly improve the energy efficiency of our housing stock, but it is disappointing to see that this has not been covered within [this] strategy."
 
"The need to accelerate the roll-out and investment into insulation extends beyond housing," she continued. "With nearly a fifth of all gas being consumed by the non-domestic sector, a lack of any retrofit strategy will result in higher costs for our businesses and public infrastructure – including schools and hospitals. This will ultimately be felt by households, which will have to bear the brunt of higher prices.
 
"Aside from keeping consumers' energy bills down and reducing their carbon footprint, retrofitting homes is a fast and cost-effective strategy to reduce demand for natural gas and will help to support the UK's energy security. 
"Recent announcements such as the abolition of VAT on some energy-saving materials are a welcome start. However, without a clear plan and funding to upgrade the UK's building stock, our energy security strategy cannot be driven forward effectively – and we will quickly lose momentum on the drive to net zero."
The British Energy Security Strategy is available here.
Image credit | iStock