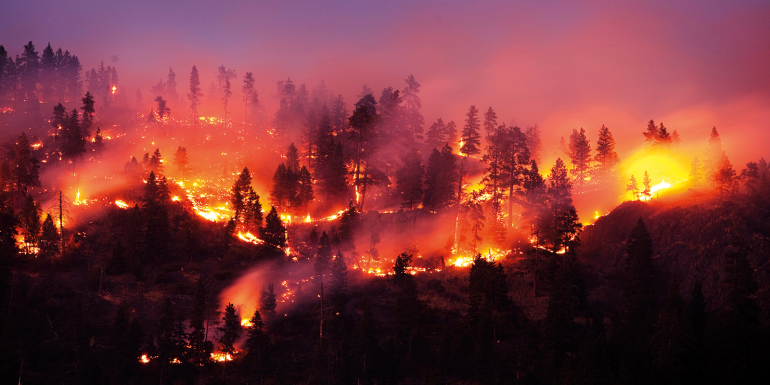 GHD's Suna Taymaz, Simon Babes and Steve Gwynne discuss how using emerging data collection and analysis technology can help build shock-resistant communities
Prolonged droughts, wildfires, flooding and environmental degradation are having a devastating effect on communities worldwide. With growing climate uncertainty, pressure to strengthen infrastructure for climate resistance is at an all-time high. Fast and intuitive access to high-quality geographic data and information will become increasingly critical for decision-makers in every industry. And by identifying future climate events and mitigating factors, the risks can be better understood.
These advanced digital tools will be used to create a cohesive, interconnected understanding of the effects of climate change on local environments. Technology such as aerial lidar, photogrammetry and other methods help build a digital twin of the Earth to model structures, land, water levels, forests and predict changes. This will help plan climate resiliency responses.
Using predictive analytics based on large volumes and multiple sources of data, helps manage the complexity and uncertainty of climate change in a variety of ways. For example, GHD's teams have mapped wildfire activity encroaching on rail assets, drawing on a mix of network-wide and hyper-local geographical information systems data to provide railway operators with comprehensive situational awareness of new or emerging threats. The same could be done for mapping and predicting flooding in residential areas as extreme weather conditions become more frequent.
Preparedness for climate threats can be vastly improved through quality data. Movement Strategies, a people movement and crowd dynamics consultancy, applies analytics of movement data to understand pedestrian and traffic dynamics in order to better understand and improve emergency evacuation performance. Movement Strategies is developing research tools to assess community vulnerability – taking into consideration local wildfire risk, the physical environment, the population and the traffic response that might inform disaster preparedness strategies. Integrating tools, based on contemporary data, can better capture and interpret underlying dynamics to better support complex climate emergency planning.
Water infrastructure
In one case study, a client's ageing water main infrastructure faced potential lead exposure as a result of leaching caused by corrosion. With more than 900 miles of infrastructure, an estimated 40% of the client's pipelines were lead service lines (LSLs), which needed replacement.
Moreover, the recently promulgated lead and copper rule revisions meant the client needed a detailed location and material inventory of each service line – the client had 35,000-45,000 service lines that had been installed prior to modern record-keeping and asset management processes, meaning their location and material composition were unknown.
To mitigate excavation costs and improve health and safety, GHD Digital helped the client understand where the LSLs were located without having to break ground. Excavating each service line to identify the material alone would have cost approximately $3,000 per excavation. However, through data and document mining, pattern recognition, predictive analytics and dashboarding, the programme was able to develop an inventory of the LSLs and create a cost analysis of their replacement. This was overlaid on current capital projects planned throughout the city.
The team determined that if the client chose a randomly selected area, it would cost thousands of dollars to replace each service line. However, with the same budget using the analytics, costs can be reduced by approximately 20%. Ultimately, the analytics mean the client does not have to excavate simply just to identify which lines are LSLs. Instead, the client can target future service line upgrades based on the predictions, and any regular maintenance and updates beyond LSL replacement can be informed by the data.
Understanding wildfires
To better support communities during an unprecedented wildfire season, GHD developed a location-based solution: a wildfire bulletin, which shows the location of assets relative to encroaching wildfires. The solution has two parts: an interactive map and an automated briefing document.
The interactive map plots and displays wildfires nearest to clients' assets using a digital portal. The maps illuminate important details, such as how a fire has changed from the preceding days, its last reported conditions, a list of government classifications of intensity, individual fire IDs with location and size, and nearest towns. The automated briefing document sends a daily information summary and a detailed fire map for individual wildfires, which are viewable on the ground, offline, or in remote locations.
GHD Digital is developing several layers of efficiency that can be applied on a massive scale across operations to improve the likelihood of protecting assets. In many cases, manually tracking information on this scale takes a significant amount of effort. Each day, teams would have to target a location, track an individual fire and analyse information based on a single asset, then repeat this process for thousands of other assets.
To complicate matters, a wildfire can change course rapidly; the information could be out of date, and resources dedicated to tracking could be allocated elsewhere by the time manual tracking was complete. Using the automated and digital solutions, the team has improved resource efficiency and taken the guesswork out of tracking assets during natural disasters.
Building on our capacity to model, analyse, interpret and predict, data in all its forms can be used to bring about important change. In the next decade, as both individuals and organisations seek to operate differently, data can provide the clear and compelling evidence needed to motivate a new climate-conscious mindset. It's a complicated path to net zero, but knowledge is power. Every decision – from personal consumption choices to multi-million-dollar investments – will need to be based on an accurate understanding of the real environmental cost of that decision. In this way, data analytics and intelligent interpretation will help lift the veil on the climate and carbon impacts of all our choices, large and small. 
Find out more at ghd.com
Image credit | Getty