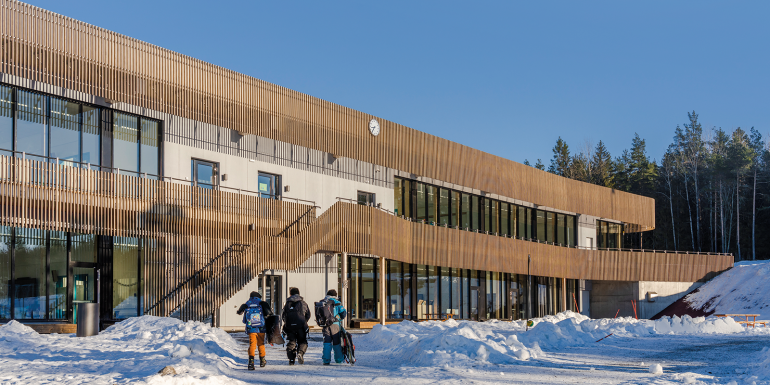 A school to learn in and learn from: how environmentally sound building practices form a key part of education and learning
Situated in a rural forest in Norway, the new Torvbråten primary school has become the country's second school to achieve the Nordic Swan Ecolabel, awarded for best practice in environmental of products and developments. Designed by Link Arkitektur, it was developed to inspire curiosity for sustainable design and materials from the start of a child's development.
The school, which was designed as a passivhaus building, is also equipped with 800 solar cells. It also uses energy wells (a type of geothermal heating) that supply the building with waterborne heat in all floors, while 97% of construction waste was sorted at source.
With a gross area of 6,700m², the school caters to 470 students and 46 permanent employees, and consists of two wings and a multi-purpose hall. Large-scale glass windows create a flow of daylight inside and foster an important connection with the surrounding forest landscape. The forest provides a natural home for an array of outdoor activities, including a mountain bike track and a light trail for skiing and walking to benefit the pupils as well as the local community.
More than aesthetic
Due to the school's forest setting, wood was a natural choice for the exterior, especially as it will colour and age with the surrounding landscape. Wood specialist Kebony was selected for the project to clad the exterior of the building with wood that has been modified to improve its longevity and performance.
Using an environmentally friendly polymer process developed in Norway, sustainably sourced softwoods such as pines and non-durable woods are impregnated with a bio-based liquid derived from agricultural crop waste. Even though chemicals are used, the product is non-toxic both during and at the end of the process. The agricultural by-product furfuryl alcohol is permanently grafted into the wood's cell walls and heated in a kiln to between 180ºC and 230ºC. Thermal modification of wood is quite common, but Kebony's process polymerises the wood's cell wall and causes softwoods to permanently take on the attributes of tropical hardwood – including high durability, hardness and dimensional stability. All this is achieved with a substantially lower carbon footprint than for tropical hardwood equivalents, according to a study by Norwegian environmental consulting firm Bergfald & Co.
Over time, Kebony wood acquires a silver-grey patina that will blend in well with its forest surroundings while maintaining hardwood performance characteristics. Link Arkitektur attributed the school's Swan Ecolabel attainment to the use of innovative materials such as Kebony wood, saying: "It is wonderful to be a part of this special school, which instils the importance of sustainability from an early age."    
For more, visit us.kebony.com
---
Kebony
Kebony has been used internationally in commercial, public, residential and marine projects including the site of Youth Winter Olympic Games in Norway, Sweden's first circular passive house, Rochester Marina in New York and the redevelopment of Cinque Ports Street in Rye, UK.
---
Image credit | Hundven-Clements-Photography