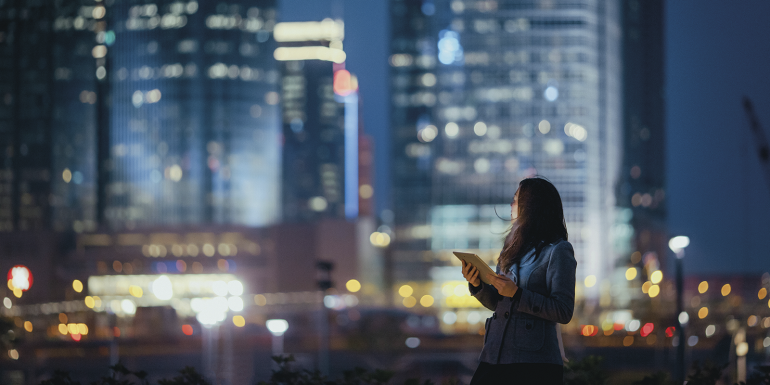 Peter Beckingham, Product Marketing Specialist at ABB, explains how building managers can use smart technology to save time and money on the upkeep of emergency lighting systems.
Emergency lighting is essential for safety. Its installation, maintenance, testing and recording are governed by strict laws, both in the UK and abroad. Inspecting a conventional emergency lighting system is usually a cumbersome exercise that can take several days each month. A typical school or office building can have up to 2,000 individual luminaires, all of which must be checked visually each day and tested monthly to comply with fire safety regulations. Each luminaire's condition has to be recorded in a logbook, and replacement filaments or batteries must be ordered and installed where needed. Full discharge testing is also required annually to ensure that luminaires will work properly in a worst-case scenario.
But a more efficient solution is now available to building managers. It is offered by the latest class of cloud-connected monitoring systems for emergency lighting. These products can automate daily status tests, monthly functional tests and annual full discharge tests. They can also report in real time, log records and raise alerts through a mobile app or web browser. For buildings that are always occupied, these systems even enable annual tests to be performed on specific sets of luminaires at different times to ensure uninterrupted coverage.
Digital mapping
This new app-based approach is designed for straightforward installation. An electrical contractor can draw up a digital map of the building in the app before installing a web gateway and the luminaires. The contractor will then scan the barcodes of individual luminaires and assign these to their allocated positions on the map.
This contrasts with previous practice, where the electrical contractor would place a barcode sticker on an as-built drawing or schedule after fitting each luminaire. A commissioning contractor would then use specialist software to create a digital building map and designate the luminaires to their positions in the building.
By removing the need for desk work and specialist contractors, an app-based system will cut the commissioning time from six weeks to two for a project involving 2,000 luminaires. This represents a significant cost saving for building owners and can help electrical contractors to become more competitive. Inspection, installation and maintenance can be planned well in advance, based on the data obtained from the system via the app.
It is also possible to upgrade existing luminaires. Automated systems are designed with backward compatibility and flexibility in mind. For instance, ABB's new NaveoPro system is compatible with older systems, including Naveo, Centrel, Emergi-Lite and Existalite. Building owners can add web gateways to existing emergency lighting systems, either in a phased approach or simultaneously, depending on their priorities.    
For further information, visit bit.ly/EmergencyLightingApp
Image credit | Getty