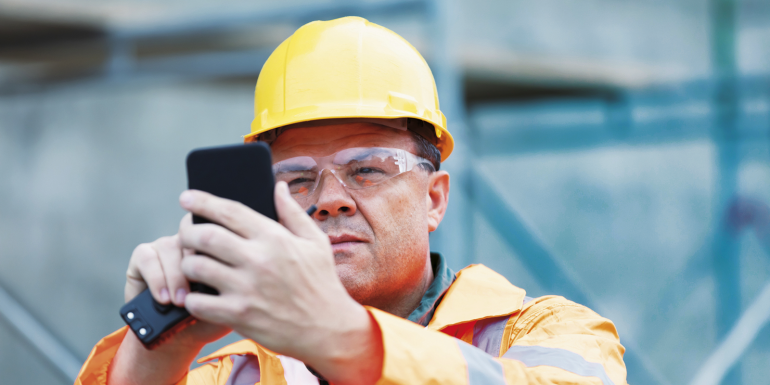 David Fullerton, UK Head for software company Captego, discusses how visual evidencing can raise quality.
First, let me begin by defining visual evidencing. Within the built environment, visual evidencing often – although not exclusively – refers to quality assurance (QA) images collected throughout a building's construction and beyond. In many construction projects, QA is typically conducted by the project or site managers. This includes inspection throughout the different construction stages and capturing evidence of defects or non-conformance. Often, a photo or note will be taken to document problems. Following that, instructions to rectify any issues are formulated. In some cases, follow-up QA images are collected to provide evidence of the corrections. These images are kept somewhere for later reference, if needed. 
However, a traditional QA approach, like the one described above, is not optimal. It misses huge opportunities to improve workmanship quality throughout the project. For true visual evidencing, QA should capture as much pictorial evidence as possible throughout a project's lifespan. Visual evidence should include the good, bad and indifferent, not just defects; think of it as the golden thread of information. This evidence can be analysed, catalogued and stored for reference as well as used to encourage future improvements.
Putting quality in the picture
So, how can visual evidence raise workmanship quality? Currently, if any workplace pictures are captured, they are of defects or general project progress. True visual evidencing should document as much of the build progress as possible. This shouldn't fill project and site managers with dread as it does not necessarily mean taking more photos. To increase the quality of workmanship – which, according to a study by De Montfort University, accounts for 26% of the underlying causes of defects – visual evidence should be collected by those carrying out the work. In other words, the most effective way to gather visual evidence is to make it the responsibility of individual workers or teams. 
The person or persons carrying out visual evidencing should know how it helps improve overall quality: their work is documented, the documentation is catalogued and stored, and can be accessed by project managers (PMs) for quality assurance. It is vital to raise quality consciousness that workers know that PMs view and process the pictures. For example, imagine you are a bricklayer installing a cavity tray. If you take a photo of it once installed and know that the PM will see it, you will make extra sure everything is in order right before taking that photo. This is partly because you are accountable for the work and now there is evidence of it, even after the work may not be visible to the naked eye. Using behavioural psychology in this manner is one of the ways visual evidencing can increase quality and reduce defects. It may also catch some other underlying causes of defects, as the person documenting will be more actively looking for potential errors. Because the documentation process acts as the completion of a piece of work, those carrying out the work will think twice before moving on. 
Logistical challenges
Collecting thousands of photos from hundreds of people can be a challenge. Manual collection is simply not viable. Can you imagine receiving the images by e-mail or WhatsApp, transferring them to the computer, labelling them and then storing them? It would be more than a full-time job. Luckily, software solutions enable you to carry out all of the above. However, identifying the best upgrade can be challenging, as can introducing new technology. 
Here are the things to consider when looking to implement true visual evidencing:
think user first. If those on the ground find it difficult or time-consuming to document their work, you will lose time on projects or visual evidencing activity will be lacklustre. So a solution needs to be straightforward – such as taking a picture with a smartphone 
set clear minimum expectations for what needs to be documented. Be clear and consistent in your standards 
make it mandatory. As the main contractor/PM, you must make it a central, non-negotiable part of the QA processes for everyone. Before long, it will become standard for all employees and contractors. As a result, they – and customers – will consider you as the most quality-conscious company around 
use automation do the heavy lifting. Manually collecting the data is out of the question. Opt for a software solution that can help automatically collect, sort, file and label the images, and that fits with the rest of your company's systems 
not all tech solutions are created equal. Just implementing new technology, apps or tablets does not equal an instant upgrade. Instead, find what delivers the most value in return for time and money invested and collects the best, most usable data; and 
don't waste data. All that data being collected can become valuable insights if analysed via a business intelligence tool such as Google's Data Studio or Microsoft's PowerBI. For instance, if your pictures have timestamps, this alone could be used to build a project timeline and help view the data in helpful ways. 
It is a good idea to engage everyone on a project and encourage them to take ownership of their work through visual evidencing. This could help alter thoughts and behaviours regarding quality. Taking a picture that is instantly available to all project leaders will positively affect the level of workmanship – after all, no one wants to take a photo of their poor workmanship. However, this is not the end goal. Instead, aim to enable and support workers to increase their workmanship quality throughout existing projects – and beyond – through visual evidencing and relevant professional training.
For management, a reduction in defects, saved time, increased quality-consciousness in the workforce, the collection of valuable data and having photographic evidence of everything you could want in a project are some of the main upsides of true visual evidencing.  
To learn more about visual evidencing, visit captego.com
Watch a CPD session on quality of workmanship by Dr Tony Hopkin, FCABE, at bit.ly/CPDQualityWorkmanship
Image Credit | iStock