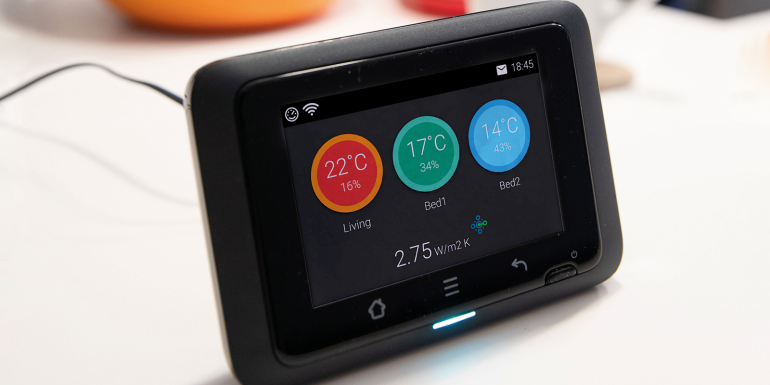 Winner: Build Test Solutions for SmartHTC, a revolutionary way of measuring the real thermal performance of buildings that is cheap and scalable.
Quality
SmartHTC is cloud-based software that uses measurements of internal temperature and energy consumption to determine the energy balance of a building and quantify its heat transfer coefficient (HTC). The HTC defines the rate of heat transfer through a building's fabric and therefore underpins its heating and cooling requirements.
The primary innovation is the intelligence contained within SmartHTC's algorithms, which account for variations in weather conditions, heating system performance, hot water use, metabolic gains and occupant behaviour to accurately assess the performance of a building. This means that data can be collected while a building is occupied and heated as normal, using relatively inexpensive sensors.
SmartHTC builds upon more than ten years of research, beginning with a PhD project carried out by Dr Richard Jack at Loughborough University and developed subsequently in collaboration with the University of Salford. Over the past three years, Build Test Solutions has developed these innovations into a highly scalable and accessible commercial product, carrying out a rigorous validation process to demonstrate the accuracy and repeatability of the results.
Extended testing programmes in vacant houses with simulated occupancy conditions at Loughborough University and the University of Salford proved the fundamental physics of the method. A major field trial was then carried out, where SmartHTC's results agreed with those of the existing industry standard co-heating test in 99% of 704 comparisons carried out across 41 buildings.
High repeatability was demonstrated for different occupancy conditions and weather conditions in the same buildings, with measurements carried out in 200 buildings. By comparison, prior to this validation process HTC measurements had only been carried out in a few hundred buildings – so the testing regime itself represents one of the deepest studies of building performance ever carried out.
Impact
The in-situ thermal performance of buildings was first measured in the 1970s. Today, thermal performance measurement is key in limiting carbon dioxide emissions and providing healthy internal conditions. Formerly, co-heating tests have mainly been used to measure in-situ performance. These tests have provided influential insights, highlighting the existence of performance gaps, whereby a building's thermal performance is worse than its design expectations. Unfortunately, co-heating tests require that a house be vacated for two weeks and are prohibitively expensive (£4,000+), which has limited their use.
The disruption and costs associated with measurement have meant that until now all building performance policies – such as the minimum standards in Building Regulations, or the models underpinning Energy Performance Certificates (EPCs) – are based on the design expectations. Yet we know these are typically not delivered for a wide range of reasons, such as poor workmanship, product substitution and excessive thermal bridging.
Given that around a third of the UK's CO2 emissions result from heating buildings, it is hard to overstate the importance of performance gaps. This not only matters in terms of climate change, but also in terms of lowering fuel bills, providing thermal comfort and eliminating fuel poverty. It's a commonly held maxim that you cannot manage what you cannot measure. Until the performance of buildings is measured at scale, it is impossible to drive construction processes and improvements in materials towards better as-built performance.
SmartHTC will enable performance measurement to be carried out on a mass scale, with little to no disruption to residents and at a cost similar to or lower than a traditional EPC assessment. Wide-scale measurement will enable feedback to drive positive change across the industry and for the first time enable the sector to quantify which materials and methods work in practice. This will empower residents and stock owners by providing quality control on newly built and retrofitted buildings, while allowing retrofit spending to be targeted at the worst-performing buildings and people who are most at risk of fuel poverty. Emissions reduction policies have tended to aim at the supply side, as their results have been more easily quantifiable. With the challenge of electrifying heating on the horizon, this focus can now shift to the demand side. The move towards in-situ measurement will have a far-reaching impact across the entire building sector.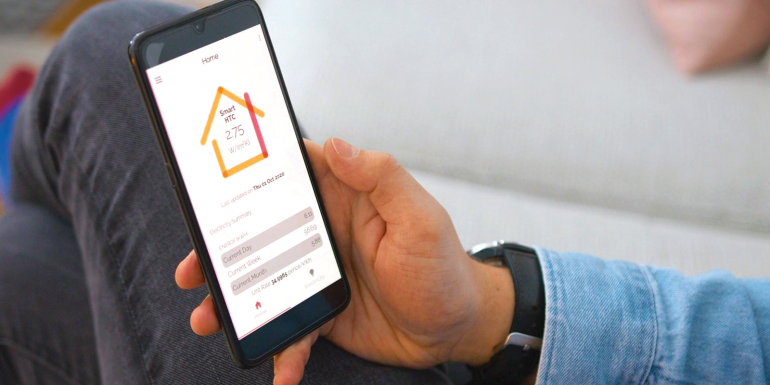 Innovation
SmartHTC makes performance measurement scalable, eradicating the barriers of cost and invasiveness. The software can be run on any platform. Many buildings already have the necessary sensors in place, with energy consumption measured by smart meters and internal temperatures increasingly monitored by smart home devices, indoor air quality monitors, thermostats and so on.
SmartHTC has been designed to integrate with such existing platforms so that performance measurements can be carried out almost instantaneously. This removes the high costs of hardware and expertise so that a measurement that previously cost thousands of pounds can cost £10 or less. SmartHTC has successfully worked with smart thermostats and smart meter in-home displays, devices that are already in millions of UK homes.
Measuring a building's heat loss presents several key technical challenges. Heating devices vary in performance and are typically used for different purposes, such as space heating or providing hot water. Gains in solar heating depend on the weather, the position of the sun, and the orientation and built form of the building. Occupants can introduce and release heat through using appliances, opening doors and windows, or simply by being inside the building. Previous testing methods have sought to overcome these challenges by requiring buildings to be vacated. A major innovation of SmartHTC is to accurately account for heat gains and losses without disrupting occupants.
Scalability and deployability
Taking advantage of existing monitoring technologies will enable SmartHTC's rapid and widespread scalability. Additionally, the measurements add value to data collected through existing smart meters and thermostats. The data is uploaded through a drag-and-drop interface and SmartHTC performs the calculations. It can also be used by surveyors to provide a measurement service, providing a clear route for mass scale deployment and a new and attractive revenue stream for surveyors.
All this means SmartHTC is accessible to an incredible variety of stakeholders. Developers can measure the performance of buildings to ensure quality. Contractors and builders can provide quality assurance. Manufacturers can demonstrate the performance of their products in situ. Social and private landlords can measure their stock to better target retrofit measures and get the best value from their investments, access additional funding and get quality assurance on work carried out. Finally, insurers and lenders can get extra assurance on investments and policies.
CABE comments
The Digital Transformation award is the newest of CABE's Built Environment awards. Reflecting the increasing pace of change in digital technologies, the award recognises their positive impact on construction projects.
The panel were delighted to present the first ever Digital Transformation award to Build Test Solutions for SmartHTC. CABE Associate Member Dr Richard Jack has been integral to SmartHTC's development from the initial concept and method to the final product and business model. SmartHTC will enable a shift in thinking about buildings and empowers people with knowledge of how their building performs.
For more, visit bit.ly/CABEAwardWinners
Image Credit | SmartHTC