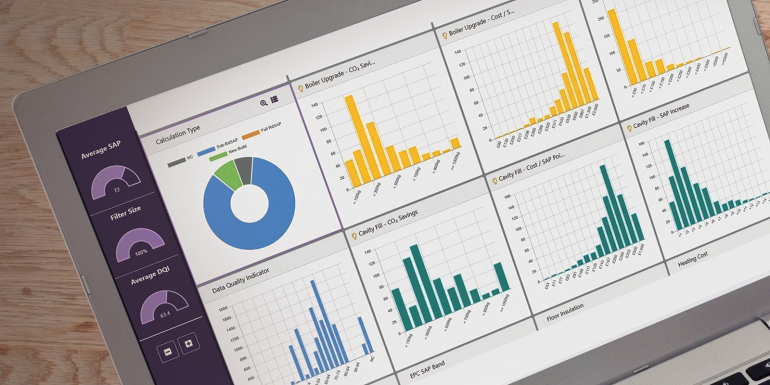 Highly commended: Sava for Intelligent Energy is carbon footprint modelling software that helps residential buildings determine the costs and associated measures involved in hitting net zero by 2050.
Quality
More than 200 social housing providers are using Sava's software and consultancy services. This equates to 60% of the sector – meaning three million homes with a combined value of £450bn are under analysis.
Sava launched its Intelligent Energy software in 2020 to help support the net-zero agenda and help organisations tackle fuel poverty in homes. The data quality indicator on the software's dashboard shows the level of confidence in the data for each property, enabling housing providers to make better decisions around improvement planning and identify gaps.
Impact
Organisations often don't have sufficient information on their housing stock to determine the carbon impact associated with each home. Intelligent Energy calculates this on a grand scale. It can determine the improvement requirements for 20,000 homes against specific targets such as net zero carbon in less than 20 minutes. Organisations can easily model potential scenarios to meet sustainability needs. For example, Longhurst Group had no energy score for 65% of its stock and relied primarily on spreadsheets of limited Energy Performance Certificate (EPC) information. Sava provided data-cleansing services, creating a single combined dataset to enable the data to be processed with ease. Longhurst has now calculated values for more than 99% of its properties using Intelligent Energy.
Intelligent Energy is designed to be used by anyone working in the housing sector needing to better understand the status of homes. Sava believes in continuous education, and runs a series of free technical webinars not only for existing customers but also for any interested members of the public. Half-day training is included for new customers and is delivered by live webinar sessions. Recorded how-to videos on new software updates are provided for users.
Sustainability
Sava is working on carbon improvement programmes with more than 40 organisations. By determining the carbon footprint of an organisation's homes and creating an improvement plan that includes the costs involved and measures required to decarbonise them, Sava is giving clients the tools they need to inform their budgets and decide what actions to take.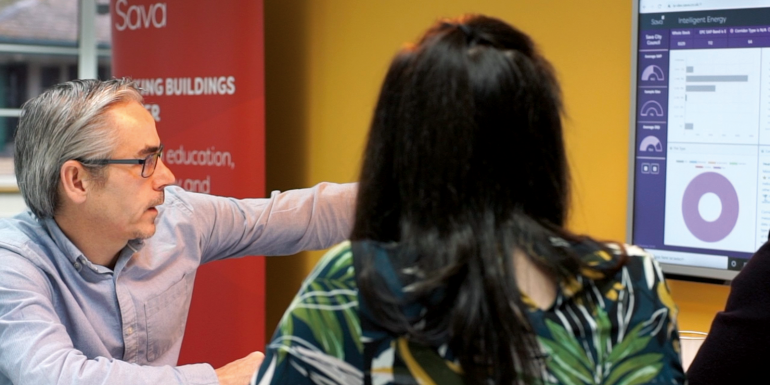 These programmes have produced a detailed view of every property within a customer's stock, and established a carbon footprint across all homes as well as a fully costed improvement plan for getting stock to an EPC Band C by 2030 and net zero by 2050, in line with government targets. Since the launch of Intelligent Energy, Sava has provided improvement planning to organisations that manage a combined total of more than 500,000 homes.
Innovation
Sava has transformed the ability for organisations to analyse their stock by building an underlying engine that can run calculations on millions of pieces of data. Historically, projects like this would require spending hundreds of thousands of pounds on condition surveys to determine a building's status. Intelligent Energy is able to consolidate data from a number of sources and transform it into a visual and dynamic profile of each home through an interactive user-friendly dashboard.
Sava has a unique minimum dataset concept, which can infer a property's attributes from a minimum of 15 data items. This is beneficial for many organisations who may have little confidence in some of the data they have, or perhaps have areas of missing data that they are unable to tackle due to the financial implications of issuing new condition surveys. Intelligent Energy is able to fill in the gaps for them based on the known information, and adds layers of information to build up sufficient data. This gives users higher-quality data to examine using the software's Recommendations tool. By using this tool, they can begin to build a picture of how to retrofit existing buildings to reach a specified SAP target more confidently than previously. Intelligent Energy integrates with all major asset management systems across the UK housing industry. Sava has configured Intelligent Energy to enable users to include their existing asset data by enabling it to access their asset systems via a simple one-off URL, from which the software synchronises all housing data. The process takes less than two hours,
putting very little strain on a customer's
IT department.
Scalability/Deployability
Previously, consultancies have generally supported housing providers with stock improvement and energy efficiency services. This tends to have large implications in terms of cost and time, and it would take a team of consultants to analyse the number of properties Intelligent Energy can analyse in minutes. Although consultancies provide a bespoke service for clients, this is not a scalable solution and works with siloed data, whereas Intelligent Energy gives a live link to data in housing providers' own asset management systems. Sava has developed the analysis and modelling provided by a consultant into a software solution, providing a scalable product without hindering a customer's experience. Sava still provides consultancy support for clients where more human insight and opinion is required, such as carbon footprint reporting, but the high-level analysis of building energy profiles is now in the hands of housing providers themselves.
CABE comments
The Digital Transformation Award recognises the increasing pace of change in the use of digital technologies within the construction industry. Building information management, inspection, testing, and the use of augmented and virtual reality are all changing how CABE's members work on a daily basis, and this award acknowledges outstanding application or development of digital technologies that have a positive impact on building performance and construction sector productivity.
The highly commended Intelligent Energy is a project that has a sustainable future at its heart – it provides solutions and services that can calculate improvement requirements for 20,000 homes against a specific target such as net zero in less than 20 minutes. CABE commends this project for its dedication to helping achieve net zero by 2050.
For more, visit bit.ly/CABEAwardWinners
Image Credit | Sava