Technologial advancements disrupting the global construction industry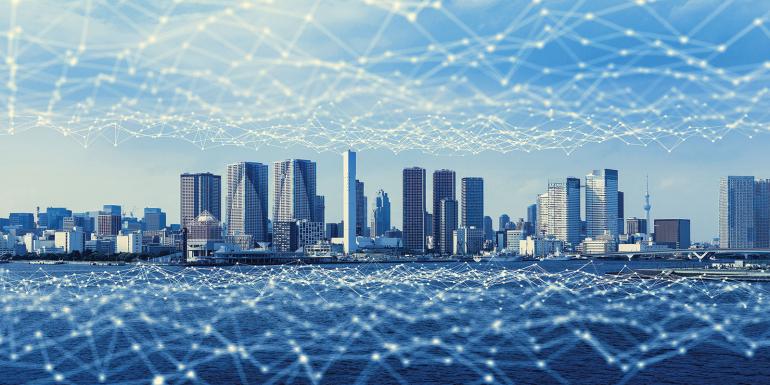 This extract from an EY white paper, co-authored by US-based CABE member Eric Ottinger ACABE, discusses how technology can increase a building's efficiencies – including sustainability – and bring a critical business advantage
The world's rapid transformation from manual processes to digital technologies is empowering the construction industry. This influx of technological solutions is mitigating risks and streamlining the building production process. Digital innovations and megatrends continue to evolve and shape the future of the construction industry. The following is an assessment of construction automation and how work is being supported through digitisation.
Blockchain
Blockchain helps provide the construction supply chain with increased functionality, efficiency and visibility. Blockchain is an open public database where transactions are stored in virtual blocks. These blocks are connected together in a chain, creating a complete history of all transactions that have occurred within a particular network. Blockchain has the potential to encrypt and protect key elements in construction operations and supply chains. This technology could potentially handle all contractual relationships using concepts such as smart contracts and electronic verification. Blockchain-enabled distributed ledgers can enable better transparency and accountability in construction projects by addressing scope creep, contract changes and elimination of waste to reduce costs.
A grouping of smart contracts can be used to create a decentralised autonomous organisation (DAO) that is operated by rules encoded as computer programs. Smart contracts executed between the client and the contractor will enhance the design, tender, install, monitoring, certification and handover of the built asset.
Internet of things (IoT)
IoT enables the connectivity of assets and big data analytics, providing new insights for project teams by capturing large amounts of reliable data in real time. IoT is the network of physical devices, such as components, appliances, equipment, buildings and vehicles embedded with electronics, software sensors, actuators and network connectivity, enabling these objects to collect and exchange data over the internet. Combining the features of telematics, asset management and connected BIM, along with using radio-frequency identification and tracking devices, could lead to highly increased efficiencies.
The benefits of IoT span across the entire life-cycle of a project and promote sustainable, whole-life costing. Throughout the entire life-cycle, machine learning will continue to recognise opportunities and provide analytics and recommendations to maximise productivity.
Emerging opportunities include installing meters and monitors at the beginning of construction to analyse output (energy, utilities, labour, etc) and optimise visibility supply chain interaction and site conditions. IoT enables green buildings to complete tasks, such as shutting down unnecessary systems when the building is unoccupied and opening and closing louvres automatically to provide optimal levels of natural light. Predictive maintenance programs can also be established with IoT. When fitted with sensors, construction equipment can automatically send notice if any abnormal patterns are detected. This alerts workers to intervene early to avoid critical downtime or further damage.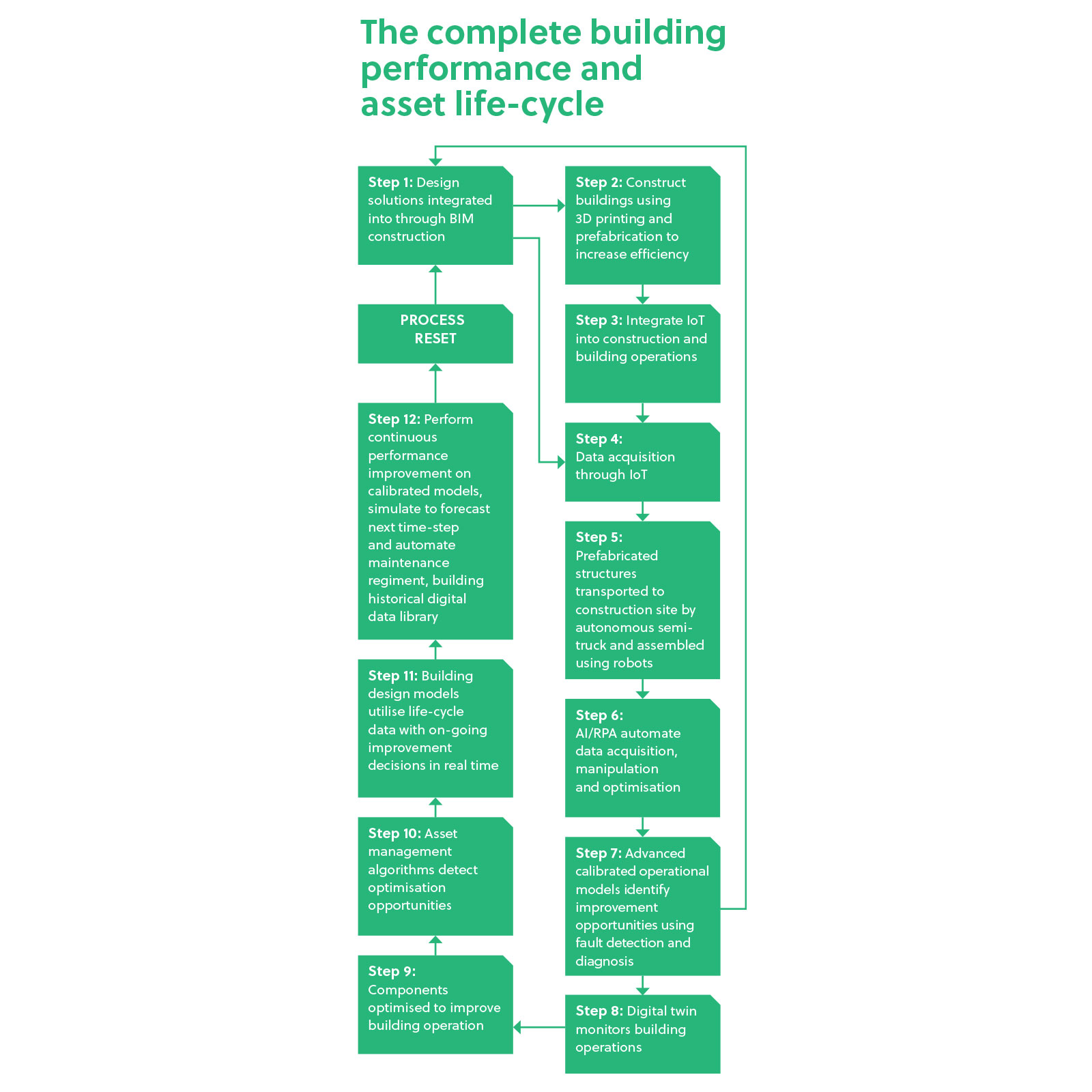 Smart buildings to smart cities
IoT is the basis and overarching framework for smart buildings, providing a key enabler of new business models for commercial real estate. With building automation and IoT centralising control and integrating all systems in a building (heating, ventilation, lighting, etc), it augments the complete project life-cycle and establishes the business case for smart buildings. Smart buildings are constructed to provide autonomous improvement strategies and recommendations (utilising AI, RPA and machine learning), which enhance the wellbeing and productivity of users while saving operational costs and increasing building efficiencies.
Building managers are looking at smart buildings to analyse space users' needs and move beyond the traditional lessor/lessee relationships. Smart buildings are planned to transform the business model and create real estate as a customer service platform. The customer service platform leverages data, machine learning and integrated building infrastructure to significantly enhance the user experience. To enable the transformation of a smart building requires a deep understanding of tenants, usage and occupancy patterns, as well as driving more information from building management systems – all of which can be explored through various smart building technologies.
New technologies, such as Tesla's battery packs and solar roof tiles, can be incorporated into smart buildings to enhance energy efficiency and enable the building to be net zero. Net zero establishes that the total amount of energy consumed by a building is roughly equal to the amount of energy created on-site. With a battery pack and solar roof tiles, buildings can now become completely net zero, create and store additional energy, which can allow a building to remove itself from the traditional power grid. Surplus energy can then be sent back to the power grid and require the owner to be compensated. Smart buildings will consistently analyse energy consumption and determine its distribution during operations.
Conclusion
The globalisation of capital, emerging technologies and changing demographics require the real estate and construction sectors to rethink traditional paths to successful management of the built environment. To remain competitive, companies must explore new structuring options, improve the efficiency of operations and balance portfolios to maximise return on investment – all while mastering digital disruption and gaining a deeper understanding of customer preferences.
Only 25% of real estate and construction firms have a digital strategy and only 9% feel prepared for the digital revolution. A key factor in this lack of progress is the minimal profit margins systemic within the industry. Construction firms typically have profit margins of 2-3% compared with an average of 20% in other industries. When profit margins are narrow, spending 1% of revenue on digital upgrades can seem a risky investment. However, failing to invest in solutions that could boost output is counterproductive. The World Economic Forum estimates that a 1% rise in productivity could result in savings of US$100bn per year in the construction industry.    
---
Read the full paper at bit.ly/OMandG
Image credit | Shutterstock