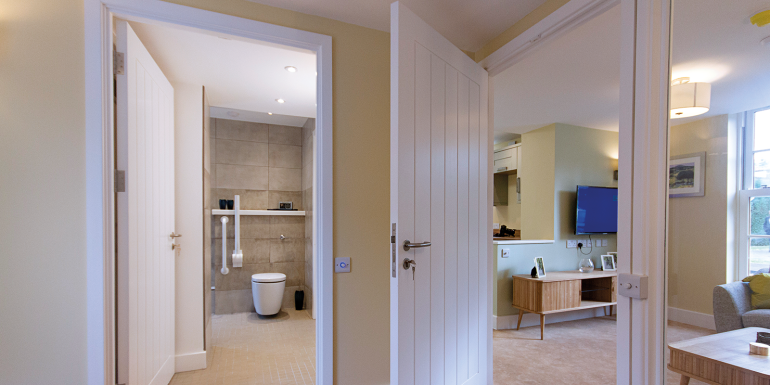 Barbara Balocating Dunn PhD(c), Professor Sue Hignett, Professor Malcolm Cook and Dr Ellen Taylor discuss the development of inclusive design for people with dementia
Dementia is a growing challenge and is one of the most important health and social care issues facing the world. The Alzheimer's Society has forecast that the number of people diagnosed with dementia in the UK will reach two million by 2051 – double the current total. Projections by the Office for National Statistics have long shown that the UK's population is ageing, and that by 2035 approximately 25% of its inhabitants will be over 65 years old.
Longer life expectancy, the increasing prevalence of dementia and the fact that more and more people wish to age in place – that is, remain living at home and in the community with some level of independence for as long as possible rather than in care – suggest that designing and building homes that will allow people to live independently for longer is vitally important.
In addition to internal physiological conditions, external factors can influence health and wellbeing. The largest, most visible external factor is the built environment where we spend most of our time, and our research specifically investigates the design of the home. The home environment embodies many activities of daily living involved in normal self-care, such as preparing meals, sleeping, dressing, entering/going out of the home, watching TV, personal hygiene and general housekeeping.
If a person has to adjust to a new way of living that will affect their movements, hearing, vision, speech, or cognition with varying degrees of difficulty, it can be challenging and frustrating. It can be even more difficult for them to carry out their activities of daily living with the same ease and familiarity they are accustomed to, especially if the difficulties are brought on by a life-changing cognitive condition such as dementia.
Design for dementia considerations
The housing stock in the UK is one of the oldest in the world – if not the oldest. Many UK houses are not easily accessible, are generally darker (with insufficient natural lighting), lack a ground floor toilet, have narrow halls and stairs, have floors that are uneven throughout, and offer limited or no physical and/or visible access to a secure garden space.
For example, common examples of poor design for those suffering with dementia involve front entrances, which should have a level approach and an internal ground floor level similar to the external ground level; this helps support all people with mobility issues, not just with dementia. If steps are necessary, an alternative inclined approach should be provided.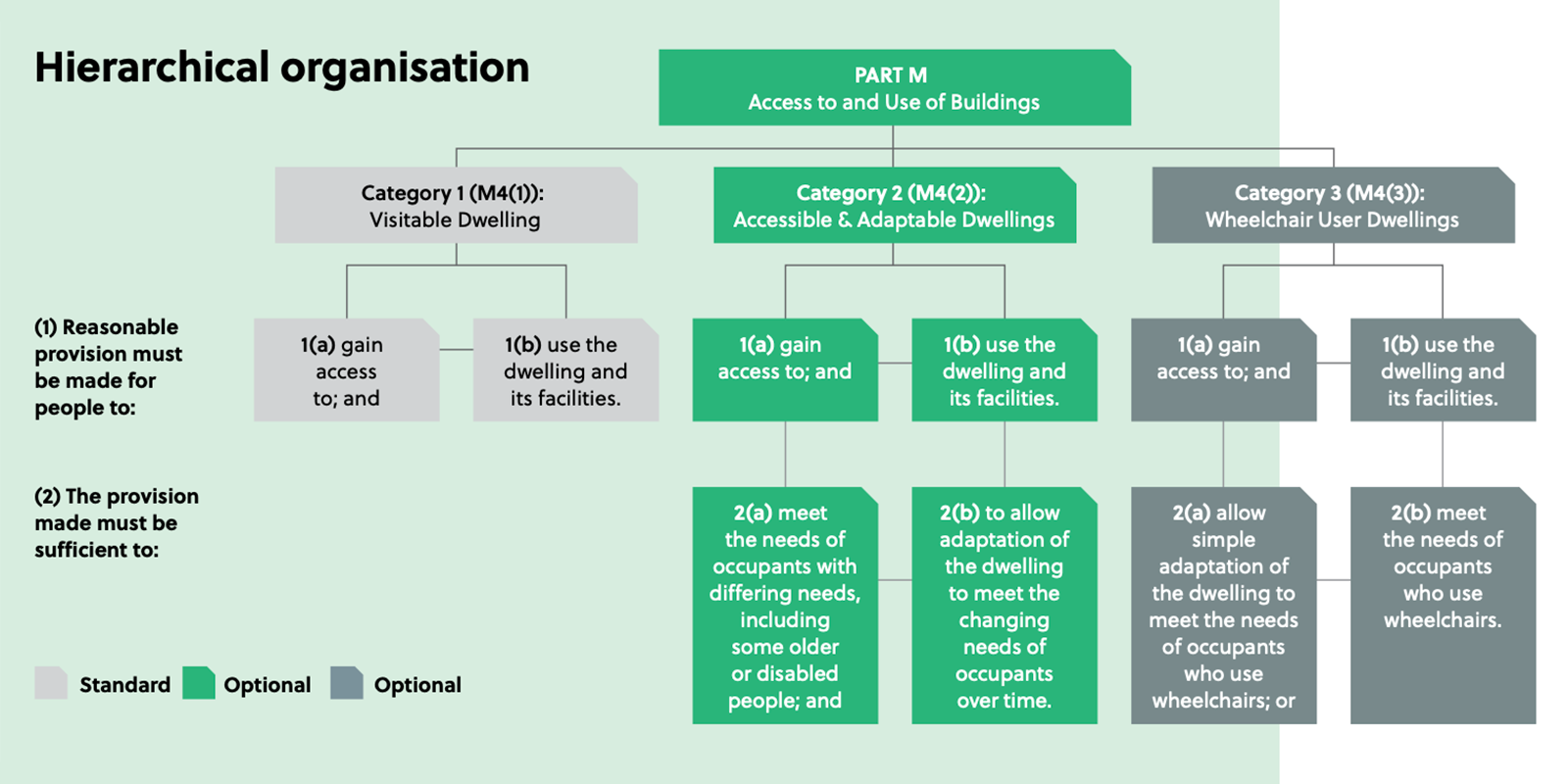 ---
Understanding dementia
The UK's Alzheimer's Society list four key points to understand about dementia:
Dementia is not a part of natural ageing; over 40,000 people under 65 in the UK have early onset dementia.
Dementia is caused by several diseases that affect the brain in different ways. The four most widespread causes (in order of frequency) are Alzheimer's disease, vascular dementia, dementia with Lewy Bodies and frontotemporal dementia.
Dementia is not just about losing one's memory – it can affect the way people think, speak, feel, perceive things and behave.
People can still live well with dementia.
---
Visual mistakes are common for people with dementia, particularly those with vascular dementia. Dark, narrow staircases are commonly mistaken for a cascading waterfall. Providing lighting directly above staircases and natural lighting at the top and bottom will help.
Too many doors can be confusing for a person with dementia; an open-plan layout would be beneficial here. Typically, ground-floor WCs are accessible off a narrow corridor or small hall. They can be difficult to locate for someone with dementia because the line of view is limited. This could lead to incontinence issues.
Those in wheelchairs can struggle. Internal doorways are often not wide enough to enable wheelchair access, particularly with a ground-floor toilet (if one is available). Also, the presence of thresholds or level changes increases the risk of falls and makes manoeuvring a wheelchair challenging.
Depending on the person's preference regarding stairlifts and lifts, stairs are often not structurally designed or there is insufficient space to install a stairlift. Sometimes a lift is the better option, but space can be too limited to do so. Plus, installing smart technology for assistive devices might not possible due to the layout of many homes, especially older ones.
Despite these common problems, there are many design considerations that can help support those living with dementia. For example, it can be beneficial to increase acoustic insulation in the walls and ceilings – noises such as those from a washing machine can be a negative and painful experience for those with dementia. Ground-floor bathrooms with good visibility and access from main living areas provide sufficient space to enable a caregiver to provide assistance, and have the design capacity for future wet-room facilities to be installed.
Access and view(s) to a secure garden improves wellbeing (by providing direct sunlight and fresh air, improving sleep cycles and moods), encourages social interactions and enables people with dementia to better orient themselves in relation to place and time, as well as a temporary distraction from fixations. The same is true for views of green space: if windows are enlarged, those with dementia experience the benefits of natural light, which supports the human body's circadian rhythm.
Advice and guidance for adapting a home for a person living with dementia are widely available. However, there is conflicting information between documents, and recommendations appear to be based on an insufficient evidence base. A systematic literature review examined whether research has been carried out to establish a need for an approved set of inclusive design for dementia standards, and has confirmed that one does not exist. 
Research aims
To address the need for a UK standard guideline for designing for dementia (as one does not exist), we have instigated a PhD research project, which aims to:
explore this gap in guidance by investigating the UK Building Regulations Part M: Access To and Use of Building and its accompanying Approved Document M since this document is the only one approved for accessibility that exists
collate design principles and evidence(s) that have been researched and reviewed in recent studies; and
develop a set of inclusive design guidelines for new build homes in the UK, enabling future home adaptations that will support people living with dementia. For this study, housing adaptation refers to modifications of permanent physical features in the indoor and immediate outdoor environment to reduce environmental barriers and restore independent living.
The research plan consists of four studies, which commenced in October 2021.
Study 1 investigated the interpretation and understanding of Part M and Approved Document M (ADM) by currently active housing professionals via online interviews and a questionnaire. Participants for this study included architects, building control, technical policy and national standards officials, housebuilders and occupational therapists. The objectives of Study 1 were:
to understand participants' interpretations of certain aspects of Part M and its associated Approved Document relating to inclusivity, home adaptations and varying (physical versus cognitive) health considerations; and
to acquire participants' thoughts and recommendation(s) for the inclusion of design for dementia into Part M/Approved Document M.
Study 1 only concluded at the end of February 2022, but ongoing analysis highlights three issues: firstly, front-door access requires significant improvements to enable a person with dementia to identify their home, approach with confidence and enter with ease. Secondly, providing a wheelchair-accessible ground-floor bathroom with space to accommodate at least two people minimum (thereby giving space for a carer) that can be redesigned to become a wet room with a level-access shower is a necessity.
Finally, ground floor layouts need to be flexibly designed to accommodate someone living solely on the ground floor; in other words, spaces such as dining rooms or a study can be converted into a bedroom, or a new internal partition constructed within a large spacious room to create a bedroom.
People with dementia are subject to the normal ageing process, such as mobility issues, and deterioration in vision and hearing. Consequently, the principles for designing for dementia ideally include principles that are applicable for the ageing population in general.
---
Would you like to be involved in this research?
As the Inclusive Design for Dementia Standards are being developed, we are looking for stakeholders familiar with Part M/ADM (Vol. 1) to provide feedback and recommendations. Please register your interest by contacting Barbara Balocating Dunn through the CABE Community, LinkedIn or by emailing [email protected].
Barbara Balocating Dunn is in the second year of a three-year PhD in Human Factors and Ergonomics at Loughborough University's School of Design and Creative Arts. The title of her PhD is Development of UK inclusive design for dementia standards: enabling future home adaptations to support people living with dementia.
---
Study 2
is currently in progress and is investigating retired people who are ageing in place, in homes of differing ages and characteristics. It is also evaluating the aspects of their homes that have been adapted or that require adapting, and identifies plans, if any, for future adaptation(s). The university is recruiting retired people to take part in this study .
Studies 2 and 3 focus on home environments to better understand which environmental features and strategies are effective and perceived as helpful to different forms of dementia, as well as to support carers; for example, open-plan layouts versus closed rooms, or flexible space arrangements. Further studies aim to identify when (ie., at what stage in the course of dementia) these strategies should be implemented.
Study 3 will gather stakeholder feedback for Version 1.0 of the IDDS via questionnaires. Study 3 aims to recruit people with dementia living in their own home and undertake data collection and analysis via the same methods used in Study 2. The results will be used to inform IDDS Version 2.0.
Study 4 will take place in two phases to evaluate and test two versions of the IDDS (Versions 2.0 and 3.0) at either a dementia-friendly test location(s) or the homes of participants/people with dementia. The first phase will introduce IDDS Version 2.0 and gather stakeholder feedback. Study 3 participants with dementia (in addition to new recruits) will be invited to test IDDS Version 2.0, and the results will be used to inform Version 3.0. This cycle will be repeated for the second phase of Study 4 with IDDS Version 3.0, and the final analysis and results will be used to design the final set of IDDS Version 4.0.
We hope this research will contribute to the knowledge base for the design of mainstream housing that considers dementia and cognitive health, assist in improving future-proofing the quality of the UK's housing stock, and support the UK's ageing population to live well independently.
For more, visit lboro.ac.uk/research/dementia