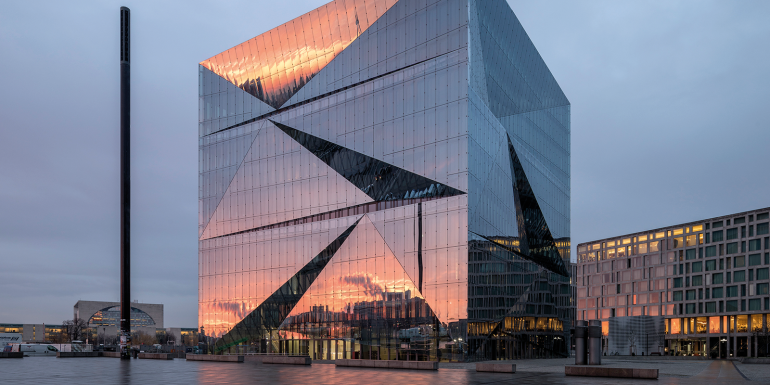 Cube Berlin is an example of inspiring urban architecture and smart office design
Post Covid-19 there has been debate about the need to return to office working. Many have continued to work from home or have a home/office hybrid working solution, while companies that want to encourage pre-pandemic working patterns have had to make the communal office space more appealing. Few are more enticing than the futuristic vision of office working created by Danish architecture studio 3XN.
In Washingtonplatz, between the government district and the main train station in Berlin, stands the striking, folded glass façade of Cube Berlin. Described as a kaleidoscope, it bounces light and colour from its mirrored surfaces and offers angular reflections of the surrounding city. The glazing itself has solar coatings that enable energy capture. It has "ten floors of flexible, multi-tenant office space, a ground-level food market and office reception, underground parking, a rooftop terrace and optional conference areas. In total, Cube Berlin spans 19,500m² of highly flexible, modular above-ground space," notes Archello.com.
Internally, it has been designed for flexibility, and the floors are arranged around a central area so can be divided into separate units if desired. Floor-to-ceiling windows maximise natural light and ventilation (unusually for a new build high rise, the windows open) and outdoor solar shading prevents overheating.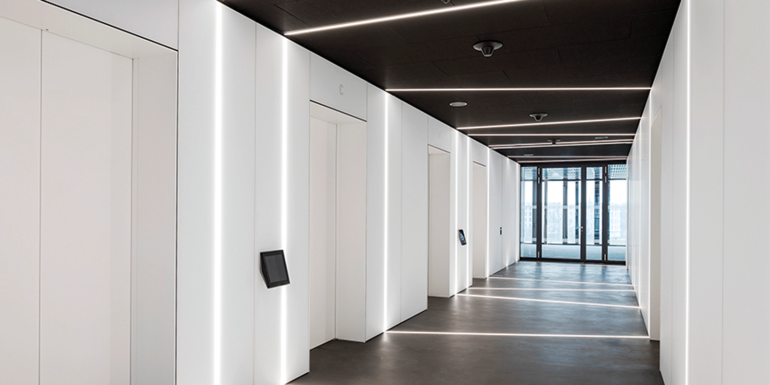 Smart systems
While visually stunning, care has been taken to ensure that its occupants are comfortable. Hailed as one of the most intelligent office buildings in Europe, the smart building learns from users and adapts to their needs via an app on users' own devices. Access control, indoor heating, cooling and lighting settings, maintenance, energy supply, electric car charging and room and parking reservations (even showing users the nearest parking space to save emissions from looking for a space) can all be customised. "Building operational information is stored in a large 'digital brain' server that connects the individual intelligent systems of Cube Berlin. Energy flow and consumption are monitored and maximised, resulting in a building that is both self-learning and highly efficient," notes Archello.com.
Developers CA Immo even refer to the central control of the building as "the brain": "[It] unites various smart technologies into a self-learning system."
As UBM Magazine notes: "This calls for massive amounts of real-time data, recorded via the 3,750 sensors, 750 beacons (Bluetooth hardware transmitters) and 140 mobile phone antennae installed in the building." This translates into a system that can maintain efficiency.
As Kim Herforth Nielsen, Founder and Creative Director of 3XN, says: "In combining cutting-edge design with user comfort, we want to show that healthy, productive places to work can also be sustainable."
---
Stats
19,500m² space
10 storeys
3,750 sensors, 750 beacons (Bluetooth hardware transmitters) and 140 mobile phone antennae installed
Architects: 3XN
Smart systems developers: CA Immo
---