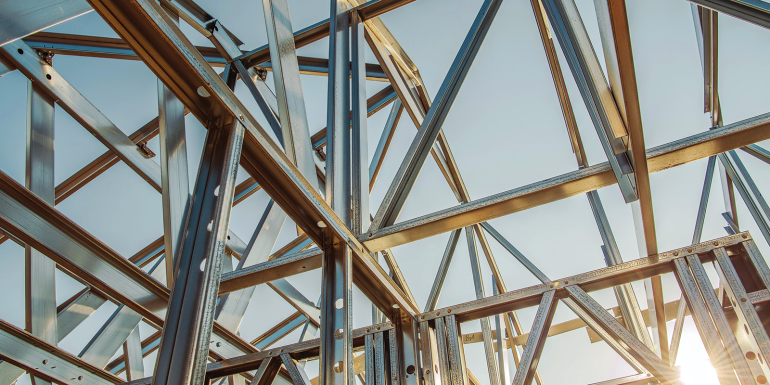 Collaborative reporting for safer structures. Report 1028: Fire protection of stair structure
A reporter is concerned about the lack of structural fire protection in a fire escape staircase.
The reporter was employed by a potential buyer to review and report on a hotel building that was being modernised. This process led to a new fire escape staircase being constructed in the building's central courtyard as part of the its new fire strategy.
The fire escape formed a separate compartment through fire-rated walls. However, the reporter recognised a potential structural performance issue in case of fire when they realised the staircase's supporting steel structure was going through a plant room – which is considered an area of elevated risk – which had no structural fire protection. This raised the concern that a fire in the plant room could affect the load-bearing capacity of the staircase and subsequently undermine any compartmentation achieved through separating elements supported by the steel structure. Structural collapse of the staircase was also considered a worst-case scenario possibility.
The reporter's worries were further exacerbated by the fact that the structural drawings "were silent on fire protection". Although the architectural drawings covered fire compartmentation issues, they did not present fire ratings for structural elements. The reporter therefore included the concern in their review, so that the issue can be actioned in the future.
The reporter believes a lack of co-ordination between the architect and the structural engineer meant both failed to review this design aspect. This goes against the need for a holistic approach in the design process, which is essential in addressing design issues for the building as a whole and not as separate functional entities.
Comments
Commonly, a stair structure does not need to have applied fire resistance where it is within a low-risk enclosure. In this case, it is not clear why the structural steel in the plant room has no fire protection, given that this would normally be required as the reporter suggests. This may be a breach of normal standards, unless there are other mitigating factors that are not mentioned in the report. It is also common for drawings to omit structural fire resistance ratings, and to instead rely on a note. In this case, not only was there a lack of overall thought and control, but there was also a lack of professional care on the part of the designers when the issue was raised. They should have realised and acted accordingly.
In general, there is an excessive reliance on building control approval, which is no guarantee that a building is safe. Building control approval does not absolve designers from their responsibilities.
To subscribe to the CROSS UK newsletter (structural and fire safety concerns), visit cross-safety.org/uk/user/register
Image credit | Alamy