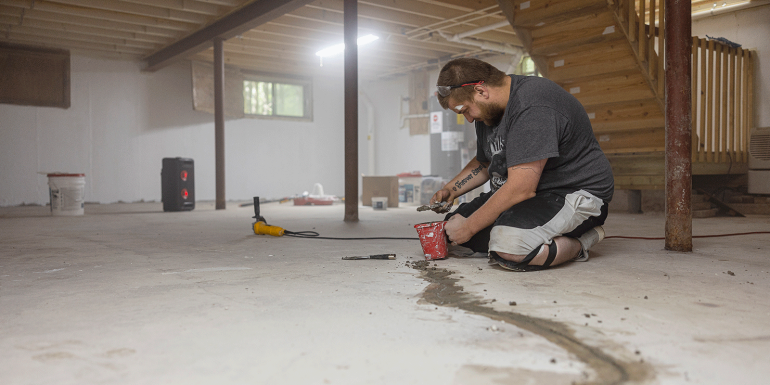 We speak to recent CABE Webinar Wednesday expert Michael Vernon about the new recommendations found in BS8102:2022 for waterproofing basements.
It's not just moles and Tube drivers who understand that there's a lot that goes on underground. Michael Vernon is a structural waterproofing consultant with Delta Membranes, and his whole working life is devoted to making sure buildings are as safe from water ingress below ground as they are above it.
Recently, Michael gave a fascinating CABE Webinar Wednesday presentation looking at a broad range of areas that are crucial to keeping basements and other subterranean buildings waterproof, particularly in light of last year's updates to BS8102:2022 'Protection of below ground structures against water ingress'. We spoke to him about what these changes are, and why his webinar should make for required viewing for CABE members.
"There are three environmental grades of waterproofing required for a building depending on its use," says Michael. "If it's an underground car park or something like that, then it needs to be only the lowest grade – grade 1 – which means that you are allowed a certain limited amount of water ingress as a liquid, provided that the space remains fit for purpose. Grade 2 is a little more stringent and allows for damp patches caused by air moisture or condensation but there should be no water ingress. And grade 3 doesn't allow any water ingress or dampness whatsoever, and there have to be environmental controls to deal with things like condensation."
Real-world reaction
One of the main changes brought about by BS8102:2022 is the introduction of a new environmental grade 1B. This allows for damp patches caused by external water – such as ground water – but which doesn't come through as a liquid.
"I'm personally not quite sure how any external water ingress can be made to happen at a slow enough rate to evaporate when it reaches the inner surface of a structure and not appear as liquid water," says Michael. "But, in any case, there is now a grade 1A and a grade 1B, so we'll see how it works out in practice."
The guidance now has new recommendations about follow-on trades.
"The worst thing that can happen is a waterproofing contractor turns up and does a great job, but then a follow-on trade will come and drill a big hole through the waterproofing or will damage the waterproofing layers without notifying anybody. The new standard has a duty on the specialist waterproofing contractor to put control measures in place to protect the waterproofing on site," he says.
"There are also recommendations about de-watering on site. Whether it's because construction has breached the water table or simply because of rainfall, often sites are something of a muddy hole full of water. That makes it difficult to install waterproofing products. So there is an emphasis on dewatering sites during waterproofing installation, such as by using temporary pumps or other such measures."
Interestingly, some of the updated guidance is a specific reaction to modern developments in both construction and the environmental world.
"In real-world construction, we are seeing more use of flat roofs over basements – such as podium decks, buried roofs or car parks – and BS8102 now recommends a minimum fall of 1 in 80 to planned and serviceable drainage, so that ponding doesn't occur in the waterproofing on the deck," explains Michael.
"There is also more emphasis on waterproofing continuity between floors in multi-level basements. For example, iceberg basements in cities like London might have two or three stories below ground. Each of those floors can act as a barrier, preventing water from draining downwards. The new guidance addresses these concerns.
"And another big thing is the continuity of waterproofing protection in a basement to a minimum of 150mm above external ground level. This is to do with increased instances of surface flood water due to climate change. The new BS8102 says waterproofing protection should extend above ground by a minimum of 150mm where practicable – which is 6in or two courses of bricks – to mitigate against the possibility of surface water building up on the outside of the structure and entering the basement that way."
Water-tight warranties
The new guidance also emphasises better harmonisation between waterproofing and ground gases protection; more emphasis around on-site investigation and research to identify and reconcile potential hazards at the design phase; and an emphasis on using properly trained and insured specialist contractors for waterproofing installation. The reason for this last point, Michael said, has practical elements well beyond just best practice.
"The waterproofing of a below-ground structure – not just a basement, but even a house built into a hillside, or structures with buried roofs or podium decks – is of fundamental importance to the success of that building," Michael notes.
"Most warranty providers won't entertain a warranty unless there has been a qualified CSSW (Certified Surveyor in Structural Waterproofing) design specialist involved at the design stage. They also won't entertain anything installed by a specialist contractor that isn't a registered installer of the system in question and which doesn't have an insurance backed guarantee – or IBG – issued.
"Companies such as NHBC or Premier Guarantees or LABC or ICW publish a set of technical standards that cover multiple standard building elements like roofs, ventilation, external cladding and basement waterproofing. For them to give a typical 10-year building warranty on the basement, the builder has to comply with their standards, which in the case of basement waterproofing are basically taken from BS8102. If a builder decides they'll just put a waterproof membrane on the outside without consulting a specialist, and that basement then leaks, it's impossible to fix.
"At Delta, we work with architects and structural engineers right at the design stage. We also have a range of approved Delta Registered Installers to ensure that our products are being specified and installed in the right way, and that BS8102, as well as clauses relevant to NHBC or LABC, etc, are adhered to. It's so important that BS8102 is complied with, both for designing out risk and for warranty providers."
To understand how you can deal with these issues, and to look in detail at the different types of waterproofing available, watch Michael's CABE Webinar Wednesday presentation here.
Waterproofing basements – what you need to consider
Understand the structure and what waterproofing products and systems will be compatible with it

Know the water table classification and how it might change according to seasonal conditions

Understand relevant local issues, such as topography, flood risk, contaminants and soil gases

Consider the use of the building and what environmental grade of waterproofing is acceptable for this use, ie: 1, 2 or 3

From this, identify the required form(s) of waterproofing required: type A, B, C or a form of combined protection

Understand any potential causes and consequences of defects, as well as accessibility issues for repair or maintenance

Identify ways to test or certify waterproofing system during construction if possible

Allow provisions for future planned maintenance.