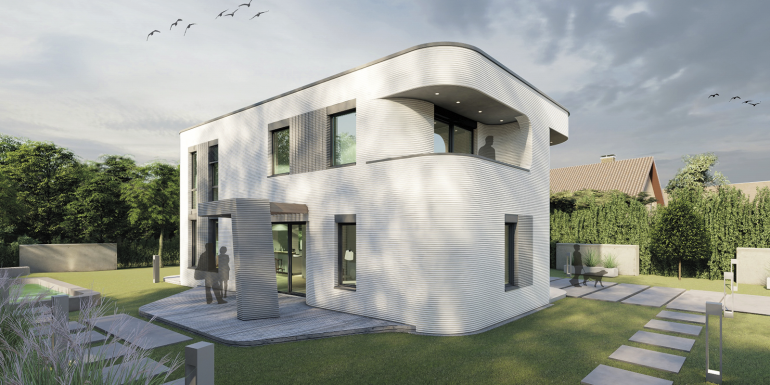 Enrico Borgarello, Director of Global Product Innovation at HeidelbergCement, discusses supplying the material for Germany's first 3D-printed residential building
Hanson UK's parent company, HeidelbergCement, was tasked with developing an innovative material, i.tech 3D, specifically for 3D printing and suitable for use with various types of 3D printers. The design and development of a cement-bound material for 3D printing was a major challenge, and i.tech 3D is the result of extensive research and testing. It has allowed us to adapt concrete, a traditional building material, to the possibilities offered by digitisation.
The material contains selected mineral components and additives to ensure very good pumpability and extrusion properties. It also quickly develops sufficient load-bearing capacity so that the lower layers do not give out under the load of the upper ones and, at the same time, ensures a strong bond between layers.
It is being used to build a two-storey detached house with three-shelled walls in Beckum, North Rhine-Westphalia. The outer walls are filled with insulating material, while the inner shells are filled with a standard ready-mixed concrete. Unlike most concrete walls, the printed ones do not need to include rebar for strengthening. Engineering consultancy Schießl Gehlen Sodeikat supported the development of the concept and the planning and execution of the corresponding approval tests, carried out by the Technical University of Munich.
The portal printer, developed by Danish manufacturer COBOD, is installed and operated on site by PERI, one of the leading manufacturers of formwork and scaffolding systems for the construction industry. The print head moves on a fixed metal frame in all three spatial axes, enabling the printer to move to any position within the construction. During the process, the printer takes into account the pipes and fittings to be laid later – for example, for water or electricity. At present, only two-storey buildings can be realised, as the portal printer is limited with regard to height.
It is a very quiet process, reducing noise for workers and neighbours. In addition, this method of construction allows the site to remain very clean, as the processes are well defined, resulting in less waste, saving resources and reducing CO₂ emissions.
The versatility of i.tech 3D means that it is ideally suited for extrusion printing of prefabricated parts or components printed on the construction site, as well as load-bearing, non-load-bearing and straight or curved components. The innovative material allows new freedom in design as well as more variety, as each component can be individually designed. It also enables the construction process to be significantly accelerated, as demonstrated in Beckum. HeidelbergCement has every confidence that 3D printing will become increasingly important in the construction sector in the future.    
For more, visit: heidelbergcement.de/de/i.tech3D
---
New design possibilities
By following the principle of contour crafting, parts of buildings – or even a whole house – are digitally produced, layer by layer, without manual labour. PERI's huge portal robot creates in five minutes approximately 1m² of wall surface – and that is completely without formwork or scaffolding. 
---
Hanson UK is a supplier of heavy building materials to the construction industry. It is split into four business lines – aggregates (crushed rock, sand and gravel), concrete, asphalt and contracting and cement. Visit hanson.co.uk 
Image credit | Heidelberg Cement