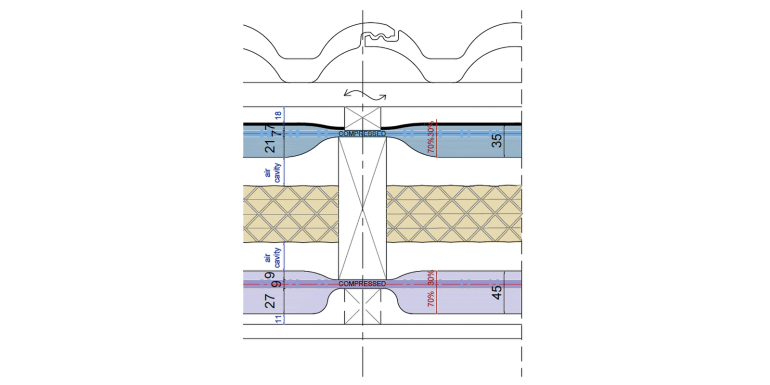 Part L of the Building Regulations came into force in June in England and the respective regulations in Scotland and Wales will be changed later this year.
A lack of clarity on how to carry out U-value calculations for multifoil insulation has been resolved by the BRE Group's Conventions for U-value calculations, aka BR443 (2019 edition).
Multifoils are typically installed in a continuous layer over or under rafters and then fixed by battens. Under the earlier BR443 convention they were treated as a single layer, whereas in the revised edition they are divided into three separate layers. This means the thickness ratio of multifoil expanding into the rafter and batten cavities is reflected within the calculation.
Under the revised convention, in roof insulation 30% of the multifoil will balloon upwards into the rafter cavity and 70% will puff downwards. In wall insulation 50% of the product will act in this way. This also ensures the residual air cavity element is calculated precisely. The model also includes the different bridging effect of rafters and battens, which are now calculated more accurately. If the compressed thickness of a multifoil has been robustly determined under BS EN 832, it can be included within the U-value calculation as a separate layer.
Co-author and architect Thomas Wiedmer, UK and Ireland Technical Director for Actis, said: "The new BR443 clarifies how U-value calculations are carried out for multifoils and clearly specifies how to compare the thermal efficiency of various products, including reflective insulation. The main focus is that it gives clear guidance on inserting multifoil product characteristics, such as thickness and thermal performance, within U-value calculations. Clarifying the thickness ratio affects how much space is left when installed. The robustness of the calculations is very clear. Now that this convention is part of the revised Part L, everyone will need to follow it."
For more information, contact [email protected]